We're spoiled for choice when it comes to live TV streaming services. Unlike cable TV, which depends on what's available in your area, you aren't restricted in which live TV streaming platform you choose.
And they're all different with their own unique selling points, features, and benefits. Some of them are cheap and do one thing really well, while others are loaded to the rim but cost a pretty penny. Some are dedicated to sports, while others focus on family content.
Which one is right for you? Here's our breakdown of the best live TV streaming services currently available and their pros and cons. Only you can decide which one is right for your needs!
Best Overall Live TV Streaming Service: Hulu with Live TV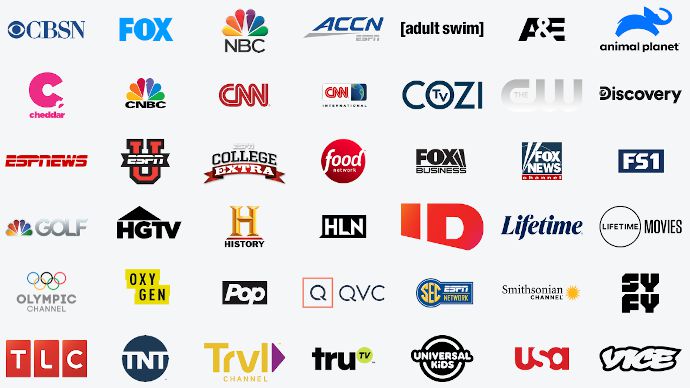 If you're like me, live TV is great for three things: live sports games, channel surfing when you need to kill time, and leaving it on as background noise when you're busy with another task.
Hulu with Live TV is the best overall live TV streaming service if you really want to replace cable TV but still keep the same experience. You can tune in, tune out, and surf over 65 different live TV channels whenever you want—plus get access to Hulu's entire library.
Hulu with Live TV costs $64.99/month. In addition to dozens of popular live TV channels (e.g. ABC, CBS, FOX, NBC, ESPN, HGTV, etc), you can also DVR record those channels and store up to 50 hours of footage at any given time.
You can also bundle Hulu with Live TV with Disney+ and ESPN+ for just a few dollars more: $72.99/month. A fantastic deal if you think you're going to watch all three services on a regular basis.
Special Offer
Get the ultimate all-in-one streaming bundle that includes Hulu + Live TV, Disney+, and ESPN+ for a single affordable price!
Best Mix-and-Match Live TV Streaming Service: Sling TV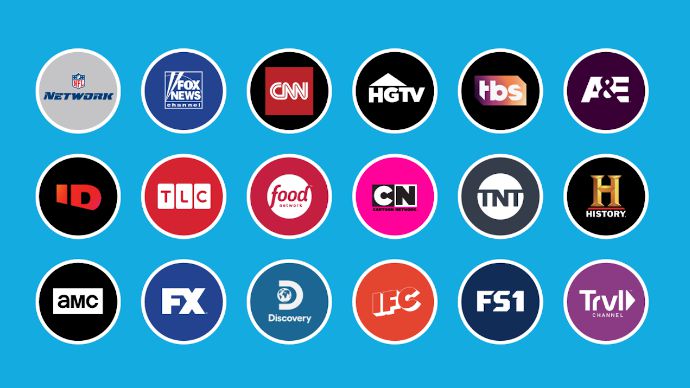 Sling TV is the most flexible live TV streaming service, at least as far as picking and choosing which channels you want included in your plan. Not a sports fan? Don't pay for the sports channels! Only care about live sports? Ignore the other channels!
To start, you choose between the 33-channel Orange package (best for sports and family content), the 44-channel Blue package (best for news and entertainment), or both Orange + Blue. Either one includes 50 hours of storage space for DVR recordings.
After that, you can pick and choose a bunch of optional add-ons and extras, such as special "Extras" channels, DVR Plus for more storage space, premium channels like Starz and Showtime, NBA League Pass for all out-of-market NBA games, and more.
The Orange and Blue packages each cost $35/month, whereas the Orange + Blue package costs $50/month.
Best Value Live TV Streaming Service: Philo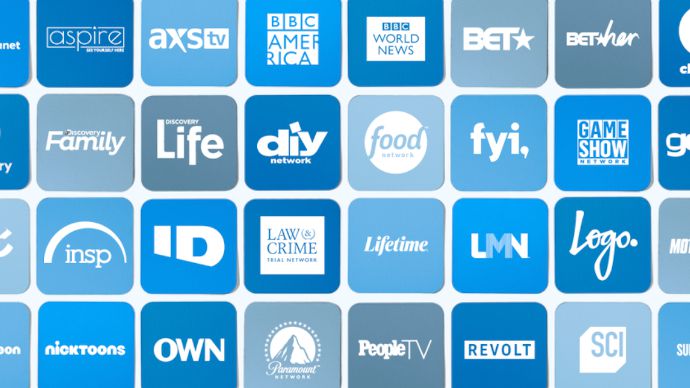 If you can't spend much on a live TV streaming service but still want as many different channels as possible, then Philo is the one for you.
Philo offers 64 different channels and only costs $20/month. That's an insanely good value for live TV streaming, and it's the perfect option if you mainly use live TV as background noise.
What's the catch with Philo? In order to keep its price down, Philo avoids local channels and sports networks. If you're OK with channels like AMC, BET, Discovery, GSN, HGTV, Nickelodeon, Travel Channel, and don't care for sports? It's the ideal package.
Philo also offers unlimited DVR recording (no storage limit) with one caveat: each recording only lasts for 30 days. You can also add-on EPIX for $6/month and Starz for $9/month.
Best Live TV Streaming Service for Sports: fuboTV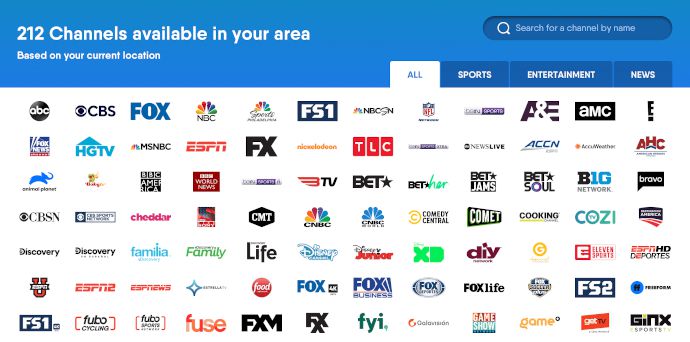 fuboTV offers one of the largest channel selections among all the live TV streaming services. As of this writing, there are more than 200 channels included in the fuboTV plan.
And while fuboTV's package does include a lot of the usual channels—ABC, CBS, FOX, AMC, USA, HGTV, and many others—the biggest reason to choose fuboTV over any other live TV streaming platform is for its wide coverage of live sports.
fuboTV has all the mainstream sports, including NFL, NBA, MLB, NHL, and MLS. But that's only the beginning. There are dozens of other sports channels for NASCAR, tennis, golf, MMA, etc. And if you love soccer? You can watch Premier League, LaLiga, Serie A, and more.
fuboTV serves the biggest sports channels—like ESPN, FS1, NBC Sports, CBS Sports, beIN Sports, NFL Network—that you won't find on most other live TV streaming services.
fuboTV plans start at $64.99/month for 95 channels and 500 hours of DVR, which can be upgraded to the $79.99/month plan for 150+ channels and 1,000 hours of DVR. More channels available as add-ons.
Best Spanish Live TV Streaming Service: Vidgo
Vidgo is a relative newcomer to the live TV streaming scene, and it stakes a claim in a small but important niche: live streaming for Spanish-language TV channels.
While Vidgo does offer English plans, they're not as good as the ones we've mentioned above. At $45/month for 60+ English channels or $55/month for 80+ English channels, you're better off with Philo, Sling, Hulu with TV, or anything else really.
But Vidgo's worth getting if you need access to dozens of Spanish-language channels. This is a separate offering from the English plans.
Vidgo's Latino package offers 14 Spanish TV channels for $20/month. For more, you can grab the Latino Mas package, which has 29 Spanish TV channels for $30/month.
You'll find most of the popular Spanish-language TV channels in the US, including Antena 3, Atreseries, Azteca America, Cinelatino, Discovery en Espanol, ESPN Deportes, Nat Geo Mundo, and more.
Feature-wise, Vidgo is a bit lacking. There's no DVR option yet, but you can play any show on any channel from the last 72 hours. You can also use your Vidgo account to sign into channel-specific apps using the TV Everywhere feature.
Best Family-Friendly Live TV Streaming Service: Frndly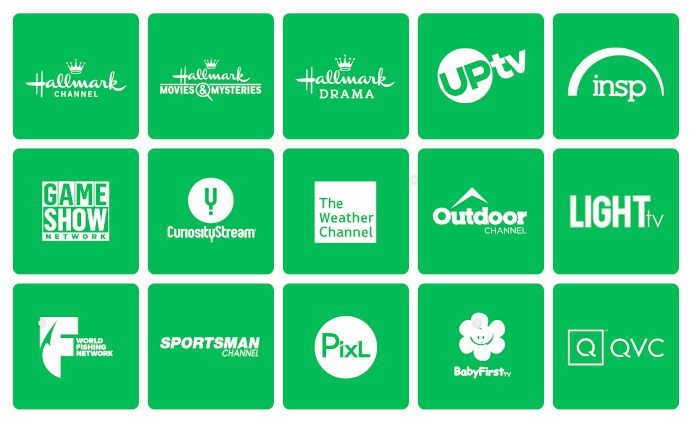 If you really want to minimize spend and you really only need a handful of channels to keep you occupied—or to leave on as background noise—then Frndly is a smart option.
Frndly carries 40 channels, but they're all family-friendly. That means you can turn on any channel and never worry about what might be showing, which is great if you have young kids around.
Channels include Hallmark, GSN, CuriosityStream, The Weather Channel, Outdoor, QVC, and a handful of other lesser-known ones.
Frndly has a basic plan that costs $6.99/month, making it the cheapest non-free live TV streaming service we know of. For HD quality and DVR recordings that keep for 3 months, the Classic plan costs $8.99/month—or store for 9 months with the Premium plan, which costs $10.99/month.
Best Free Live TV Streaming Service: Pluto TV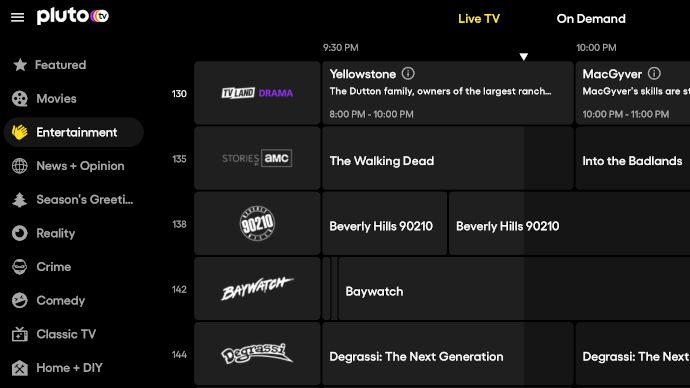 Pluto TV offers access to 250+ channels and 1,000+ on-demand movies and TV series—and you don't even need to register an account to start watching. But if you do register, you'll have access to features like saving your favorite channels.
What's the catch with Pluto TV? How can it offer so many channels and on-demand titles while being completely free?
The first big caveat with Pluto TV is that most of the "live" channels aren't actually live. While a handful of channels—like Bloomberg and CBSN—are actually streamed in real-time, most are actually pre-recorded from a day or two ago.
The second big caveat is that on-demand movies and TV series are ad-supported. You'll have to watch an ad before and during playback. That's pretty much expected for any free streaming service, right? In that sense, Pluto TV is a lot like Tubi and Crackle.
Overall, Pluto TV replicates the feel of live TV—especially with its TV Guide-style browsing interface—but isn't a good option if you actually want to watch live content at the same time as everyone else.
Live TV Streaming Is Worth Paying For
You may balk at some of the price points when it comes to these live TV streaming services, but that's the unavoidable cost that has to be paid if you want immediate access to live TV content.
Want to pay less and save money? You're better off subscribing to on-demand streaming services. Sure, you'll lose out on the real-time experience, but there's a lot of content you can enjoy if you're willing to forgo the live requirement.