James Corden had no idea what he'd unleash when he first started Carpool Karaoke. It started as a segment on The Late Late Show in 2015, then morphed into its own series in 2017 (available to stream on Apple TV+).
The premise is simple: Carpool Karaoke: The Series is an easy-to-watch reality show that showcases two celebrities who sing along to their favorite songs as they cruise around a city together.
While James Corden was originally host who sang with guests, the concept has evolved beyond Corden and now functions as a fun snippet of music and chatter amongst famous people. Every so often, there are even crazy stunts thrown into the mix to shake things up.
Like all shows of this kind, the success of any given episode of Carpool Karaoke: The Series hinges on its guests and their chemistry together. Not every episode is a hit, and only a handful of them have that extra sparkle of magic that makes the whole experience that much more thrilling.
Here are our picks for the best episodes of Carpool Karaoke: The Series and why they stand out against the rest.
7. Alicia Keys and John Legend (Season 1, Episode 2)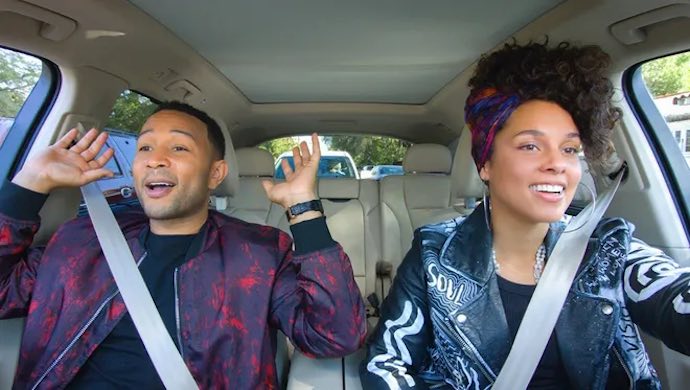 Just the prospect of seeing Alicia Keys and John Legend—two legendary icons of contemporary music—sitting in a car together was tantalizing enough for fans. However, what proved greater about the episode is that they, of course, sang along together.
They clearly had a fun time making the episode while talking about their experiences in the music industry, but the moments where they sang to one another's hits made the car journey crackle.
Neither singer needs the modern benefit of autotune. Neither even needs a backing track. Their own voices are enough to put audiences into a trance. And if it wasn't for the appearance of James Corden—clearly shoehorned in by the saccharine host—the episode would've been much better.
4. Jamie and Corinne Foxx (Season 2, Episode 1)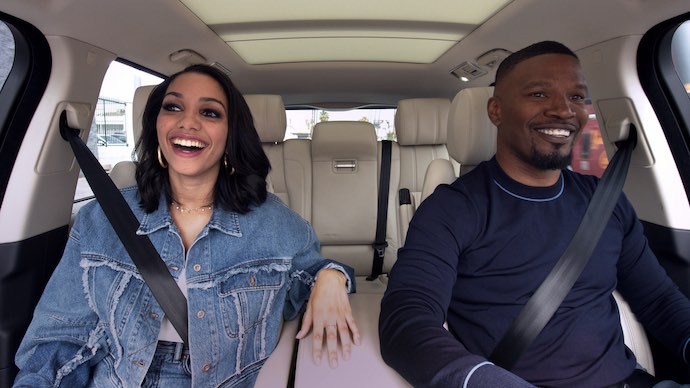 There's something special about Jamie Foxx. He's unlocked the special code to living life, exuding an attractive nature that makes him shine while still coming off like an everyman.
So, when he and his daughter, Corinne, did an episode of Carpool Karaoke: The Series together, it was always going to be fun.
As the father-and-daughter team sing their way around Los Angeles, they eventually leave the car and bring their joy to the public on the street, all before finishing up on Hollywood Boulevard.
With Jamie and Corinne, there's a sense of familial comfort, fun, and a tad bit of mischief that gives the episode an extra layer of embrace. By the time the credits roll, you can't help but want to see more.
3. John Cena and Shaquille O'Neal (Season 1, Episode 8)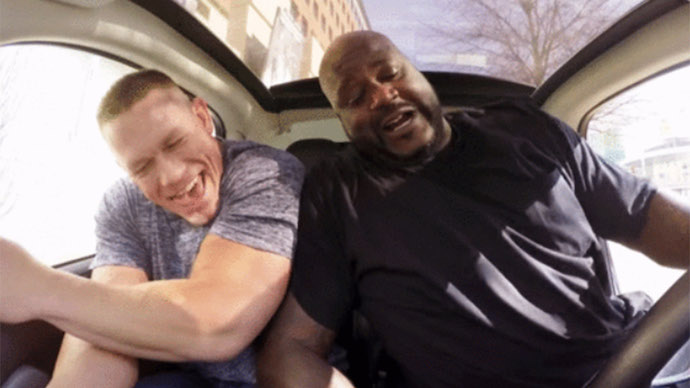 Did you know the mighty Shaquille O'Neal teamed up with John Cena—someone whom he doesn't know too well—to drive around Atlanta and sing their hearts out to some of their favorite songs?
In this episode, Shaq is everything you'd expect Shaq to be. Throw in the excellent comedic timing of John Cena and you get a rip-roaring episode full of laughter as they constantly crack jokes.
The episode eventually leaves the car for the basketball court, where Shaq pulls out some of his old magic when he needs it most to beat Cena. While parts of the episode are staged, the pair's chemistry together ensures that the episode is better than the sum of its parts.
2. Maya Rudolph and Haim (Season 4, Episode 1)
Pairing Haim (the Californian band) with Maya Rudolph might seem like an odd coupling of celebrities, but it was a masterstroke by whomever decided to get them in a car together.
As it turns out, Haim and Maya Rudolph know one another very well through Rudolph's long-time partner, Paul Thomas Anderson, and that's apparent in their chemistry that comes across with such ease.
Maya Rudolph's comedic timing and wit make the episode supremely funny, while the free-spirited nature of the three Haim sisters round things out and make the viewing experience simply joyful.
As the four of them go around and sing songs together, it's clear that few episodes will ever boast the sheer giddiness that Haim and Maya Rudolph bring, which feels oddly unique to the episode.
1. Snoop Dogg and Matthew McConaughey (Season 2, Episode 14)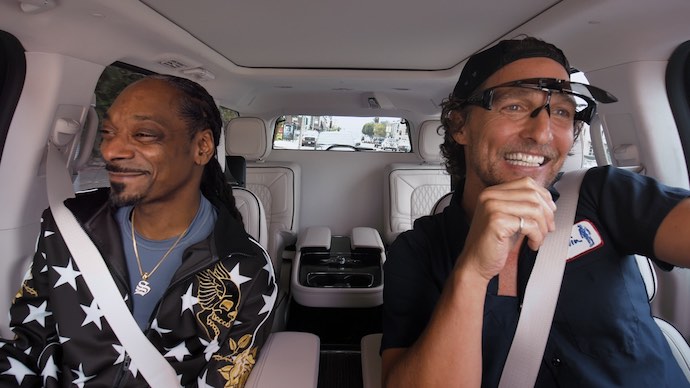 Has there ever been a more surprising yet utterly chilled pairing of celebrities in all of TV history? If you haven't seen it yet, you should seriously check out this episode of Carpool Karaoke: The Series with Snoop Dogg and his The Beach Bum co-star Matthew McConaughey.
The pair have a vibe like no other as they float around Los Angeles, a sense of themselves that oozes confidence. They show how intensely relaxed and fun they are with the challenges of life behind them.
As the two listen to one another's chosen songs, with hip-hop meeting Jimmy Buffet, the styles mesh into a new sublime flavor. If there was a feature-length cut of the two cruising around LA, we'd all watch it for the absolute magic both entertainers have in spades.
Honorable Mention #1: Adele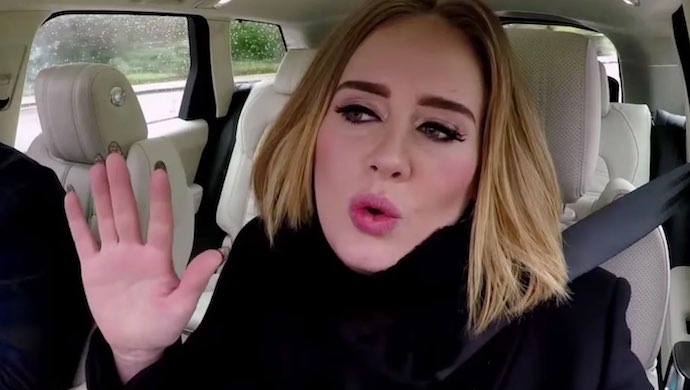 With Adele being one of the most popular musical acts in history, getting her in a car with James Corden while listening to her music was a big deal for fans. (This one wasn't on Carpool Karaoke: The Series but the original segment on The Late Late Show.)
As usual, Adele exhibited all the hallmarks that make her personality so at odds with her singing talent—in that she didn't have a care in the world for how other people perceived her.
She couldn't hide her sense of fun, and it's that unhidden nature that makes Adele's segment so wonderful to witness. Her talent is obvious, but her personality comes shining through as the type of person anybody would want to count among their friends.
Honorable Mention #2: Billie Eilish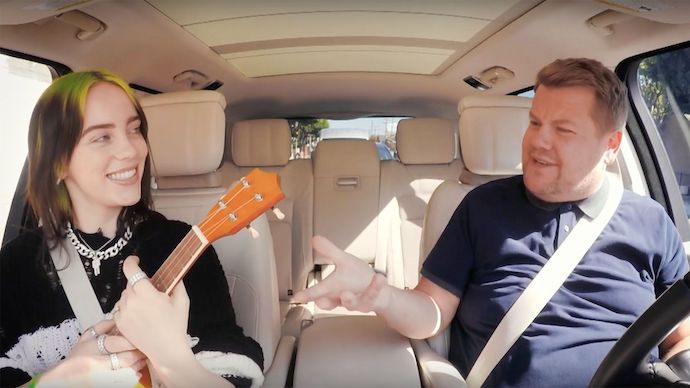 The teen sensation had to endure the company of James Corden while filming her episode, though she still came across as the funny and sardonic young woman she is. (Another one that was on The Late Late Show rather than on Carpool Karaoke: The Series.)
As Billie talks about her career and life—which probably would have been better left out of the episode, given how ends up repeating herself because Corden can find little else to discuss—she does what Billie often does when faced with a camera: nothing.
Billie Eilish is one-hundred-percent herself here. There's no unnatural transformation for the camera, no sense she's hiding anything. Her transparency and near-gothic humor make the segment one of Carpool Karaoke's best. Especially when she gets out her pet tarantula.