I like to think of myself as financially responsible. Others call me "penny-pincher," "cheapskate," "hoarder."
The point is, I don't spend money on things unless they bring me more value than they're worth. Beyond rent, utilities, groceries, and insurance, I don't spend much month to month.
But I do pay for Hulu.
And before you accuse me of anything: No, this isn't a sponsored post. Hulu isn't paying me jack to write this, although they definitely should! I'm writing this of my own volition.
Years ago, I vowed to never give Hulu a cent because the service was so bad. But after seeing how it has improved, I've changed my mind—Hulu isn't perfect, but it's really not that bad.
Here's why I think Hulu is better than people let on, and why I think Hulu is worth it and how I have no regrets paying for Hulu.
What Sets Hulu Apart?
In addition to Hulu, I also subscribe to Netflix and Amazon Prime. Aside from my VPN subscription, these are the only non-essential media-related subscription services I pay for.
And I truly believe that Hulu offers a lot that neither Netflix nor Amazon Prime offers. It fills in the gaps, so to speak.
Hulu is jointly-owned by The Walt Disney Company (via 21st Century Fox) and Comcast (via NBCUniversal), with Comcast agreeing to sell its stake around 2024. AT&T (via WarnerMedia) used to be in the mix, but sold its stake to Disney in 2019.
These are media publishing giants, which grants Hulu access to all kinds of licensed TV shows and movies that other streaming platforms can't afford or don't want to pay for (even Netflix can't afford to pay licensing fees in the long-term).
Hulu's TV Library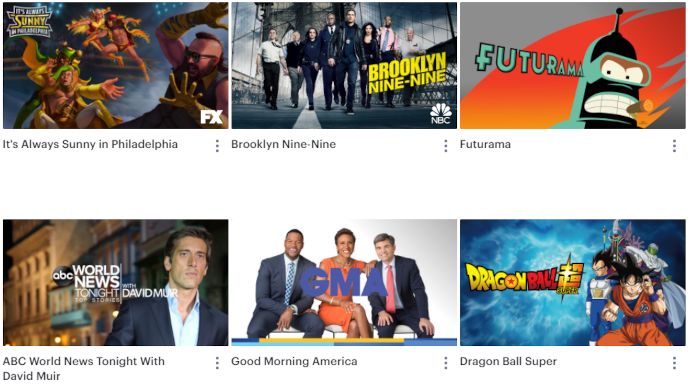 Only Hulu offers up-to-date full backlogs of geeky TV shows like:
Bob's Burgers
Brooklyn Nine-Nine
Community
Dollhouse
Fear the Walking Dead
Firefly
Lost
Scrubs
Smallville
Speechless
Hulu's Movie Library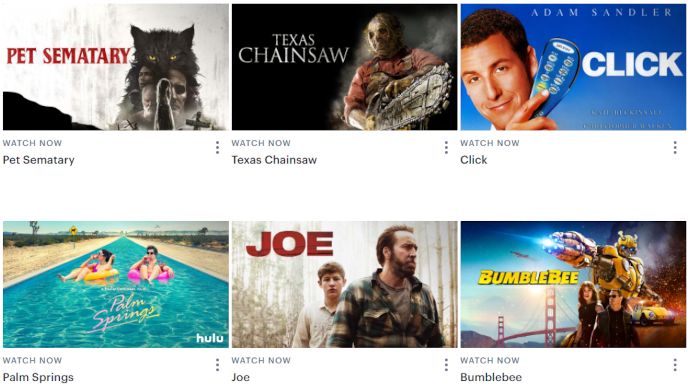 Hulu also has an extensive library of geeky movies you can't stream elsewhere, including titles like:
Batman Begins
Battlestar Galactica: The Plan
Colossal
Experimenter
Mortal Kombat
Office Space
Plus numerous other geeky movies you can stream elsewhere, but why bother if you're already playing for Hulu?
Annihilation
Arrival
Coherence
Iron Man 2
Odd Thomas
Hulu Originals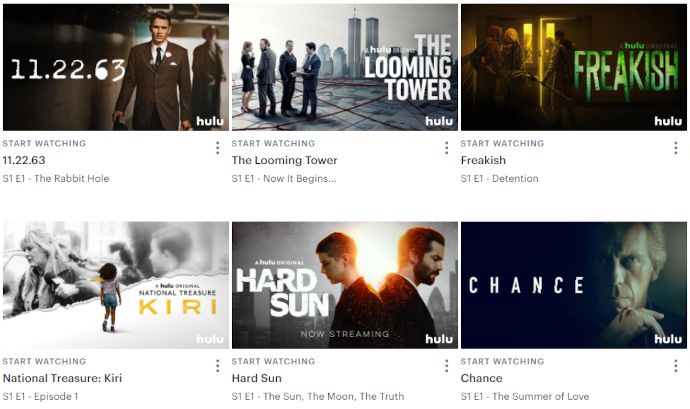 Hulu also has a bunch of original TV shows, but I'm not going to bother with them. I've tried watching a bunch of them and they all kind of suck—even the "good" ones.
The only ones that kept my interest were The Handmaid's Tale and The Looming Tower, but even they had significant flaws.
But if you personally find Hulu's shows enjoyable—notable ones include The Man in the High Castle and the Black Mirror-lookalike Electric Dreams—you'd be getting even more bang for your buck.
Hulu also has a Live TV plan, but it's a little expensive. While I've been eyeing this for several months, I haven't been able to pull the trigger because I just don't have the time to lounge around watching live TV anymore.
However, the fact that Hulu has a live TV option is definitely a unique point that sets it apart from most other streaming platforms. Over 60 channels are in the package, such as:
ABC
CBS
CNN
ESPN
FOX
FX
FXX
HGTV
NBC
Syfy
USA
And it comes with a built-in recording feature (akin to DVR) that stores up to 50 hours of footage, so you can record a live sports game and watch it later at your convenience.
Again, I haven't tried Hulu Live TV myself so I'm not recommending this part of the platform. But if you want to cut out cable and can't give up sports or live news, it's an enticing option.
The Basic Hulu Plan Kind of Sucks
The first major complaint users have against Hulu—and I agree with those people wholeheartedly—is that Hulu got rid of its free streaming plan back in 2016.
The second major complaint is that Hulu's Basic plan ($6/month) shows ads when you're watching TV shows. These ads show at the start, and then again during the show's natural ad breaks. (Ads do not show in the middle of movies or kids' shows.)
I used to watch Hulu with ads. And to be honest? I don't think the ads themselves are that bad—but they're so repetitive and so frequent that they eventually made me want to gouge my eyes out.
If each ad only showed once per episode, it'd be bearable. But no. It's the same set of ads that play break after break after break after break after break. "Grating" just doesn't describe it.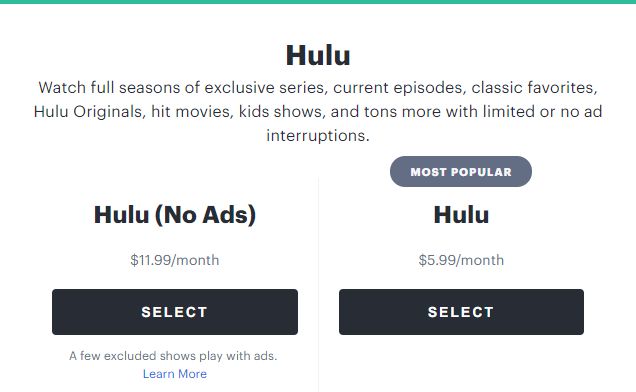 So I DON'T recommend the basic Hulu plan. It might be half the price of the "real" ad-free Hulu plan, but the small savings is not worth the trade-off in sanity.
If you're truly strapped for cash and can't afford the "real" plan, there are other ad-supported streaming services out there that don't make you pay for access. Never get the basic Hulu plan!
Which leaves you with the "real" Hulu (No Ads) plan ($12/month). I feel this price is justified.
Netflix charges $14/month for its Standard plan, which is really only worth it if you're watching a lot of Netflix Originals or niche shows that aren't available elsewhere.
Amazon Prime is $10/month, but the Amazon Prime video streaming library is hit-or-miss. It's getting better... but it's still pretty underwhelming.
As long as you don't settle for the insulting Basic plan, Hulu offers a darn good value compared to the competition.
Free Trial Offer
Did you know you can try Hulu for FREE for 30 days? Cancel at any time if you're unimpressed!
What Do You Think of Hulu?
If you got this far, it probably sounds like I'm a Hulu shill.
I promise you I'm not! It's just refreshing to have so many interesting shows and movies to watch after being disappointed by Netflix's and Amazon Prime's libraries for the hundredth time.
I'm still subscribed to all three, just so you know. All I'm saying is, Hulu has proven itself useful as a streaming service for me.