What do you do when you're an avid board game collector who has tons of awesome board games worth playing, but your gaming friends rarely come to your place and sessions are usually held elsewhere?
That's been my struggle as someone who:
Has lots of great board games;
Has friends and family who like playing board games but don't have the space or money to collect board games themselves;
Is part of several different board gaming circles that don't overlap;
Is usually the one bringing my board games to gatherings.
For a while, I used to carry them in a duffel bag, but it was uncomfortable to carry and a nuisance to load and unload. After that, I was openly stacking my board games in my car and hoping they don't spill over during transit. (Obviously not a viable option for public transportation!)
But lately I've been trying out the Ultimate Board Game Backpack by GeekOn and I think I've finally found a winner. It isn't perfect, but it conveniently gets the job done! Read on for our full review.
My review unit was provided for free, but my opinions are my own and haven't been influenced in any way.
What's In the Box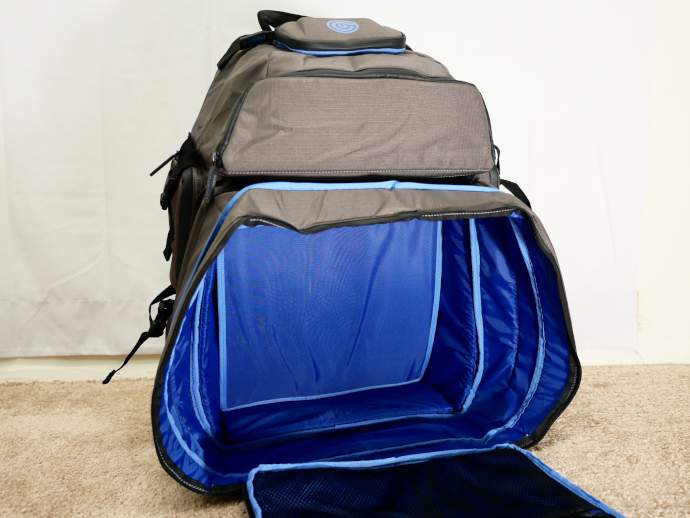 The only thing that comes in the box is the backpack itself. As far as the backpack's dimensions, here's what you can expect:
Outer Dimensions (Normal)
21.5" H x 16.5" W x 9.5" D
Outer Dimensions (Extended)
21.5" H x 16.5" W x 13.5" D
Main Compartment (Normal)
16.5" H x 13.25" W x 8.5" D
Main Compartment (Extended)
16.5" H x 13.25" W x 12.5" D
Laptop Compartment
15.25"H x 13.74" W x 0.75" D
Top Compartment
4.5" H x 7.25" D
Side Pockets
6.75" H x 5.25" W x 1.25" D
Glasses Compartment
6" W x 3.5" D
Separate from the backpack itself, GeekOn also sells a few accessories that you might find useful in conjunction with the bag:
The Backpack Waist Strap attaches to the bottom of the backpack and secures it across your waist for better stability, making it easier to wear when it's packed with heavy games. The waist strap also has 2 waterproof zippered pockets, expanding storage further.
The Elastic Box Bands (Set of 5) are slim-profile cross straps that wrap around board game boxes and keep them secure. If you have boxes that are prone to slipping open, this is a much classier option than, say, rubber bands or twine.
The Playmat Drybag of Doom is a waterproof carrying case for playmats that you can roll up. I personally don't find it useful, but if you frequently DM for D&D games and have rollable battle mats, this is a nice option. You can carry it via shoulder strap or hook it onto the backpack.
What We Like
Expandable Main Storage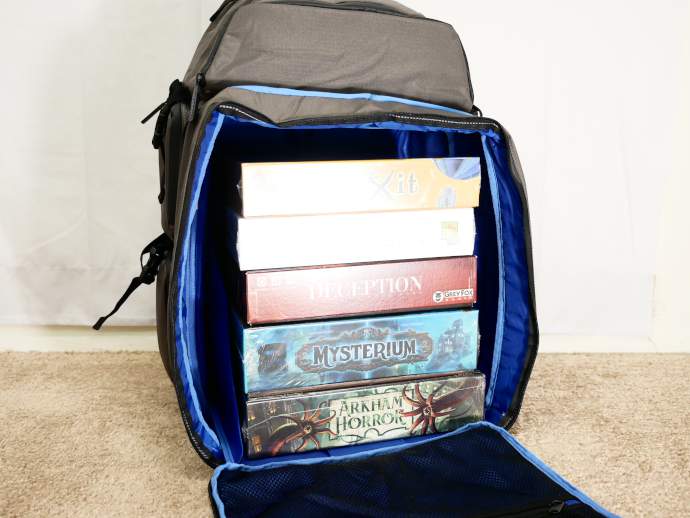 The regular depth of the main compartment is 8.5 inches deep, which is large enough to fit as many board games as you might fit in a single Kallax shelf cubby (depending on how good your Tetris skills are).
It can optionally extend out another 4 inches, for a total depth of 12.5 inches. That's just enough room to fit the common "medium square" board game box laid flat, allowing you to stack them up hamburger-style. All in all, you could fit about 1.5x the amount of a single Kallax shelf cubby.
The expandability is key. When you don't need to carry much, you can keep it compressed and the backpack will remain moderately sized and won't be obnoxiously large while hanging off your back.
So Many Pockets & Compartments
This bag has so many pockets and compartments, inside and outside. You probably won't need to use all of them all of the time, but they're certainly nice to have—especially if you have tons of accessories.
Laptop Compartment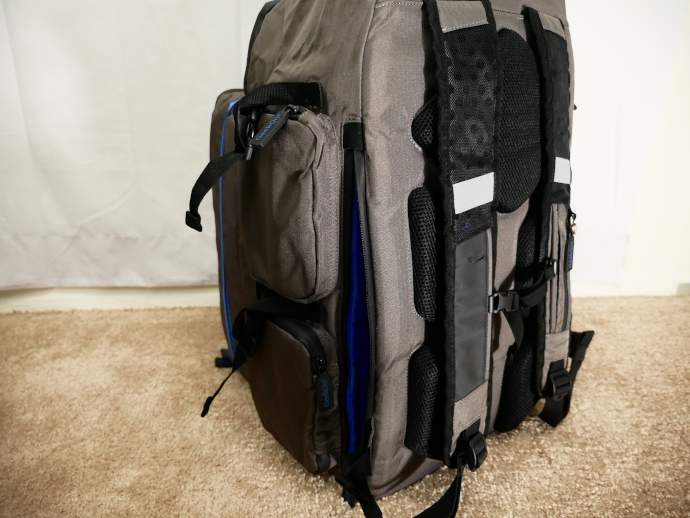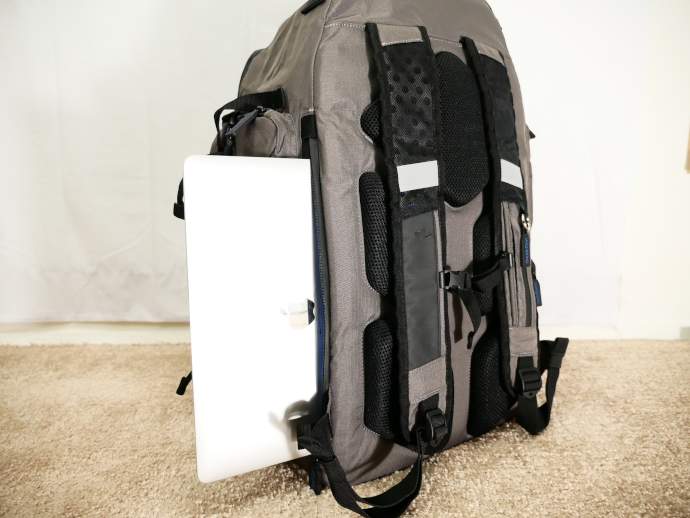 The laptop compartment sits within the main compartment. It's padded on both sides for impact protection and it's secured with a full strip of hook-and-loop along the top edge. The compartment can comfortably fit 13-inch and 15-inch laptops, maybe slim-profile 17-inch laptops.
And the best part is that it's accessible from a side zipper, so you don't have to open up and/or empty the main storage to get the laptop out.
Top Compartment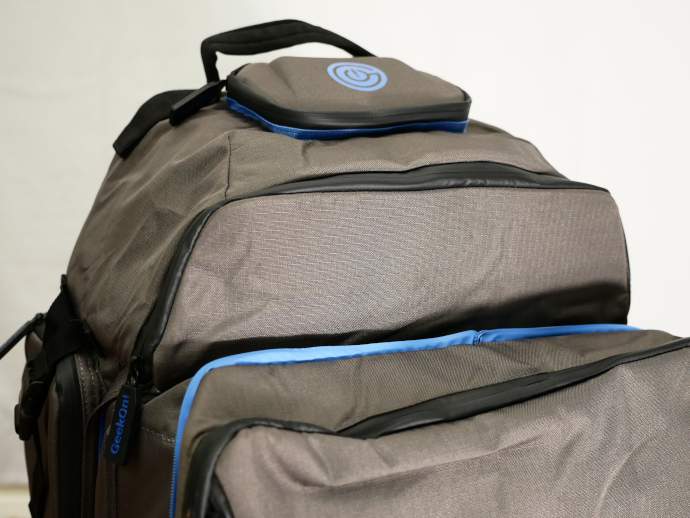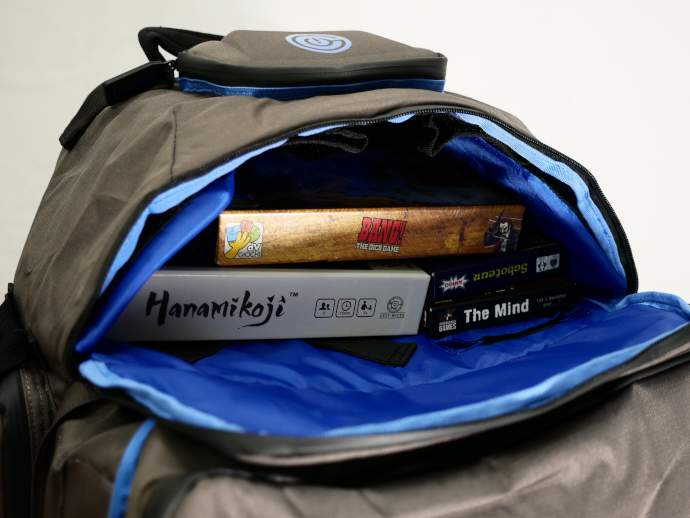 There's an optional compartment you can make by connecting some hooks-and-loops, creating a separate storage area on top of the main compartment.
This top storage area has built-in straps to secure a dice case, a hook-and-loop pocket that can fit one or two small card games or board games, and two mesh holders for storing canned drinks.
While this compartment can be collapsed to make extra space in the main compartment, I find it nifty enough that I never collapse it.
Accessories Compartment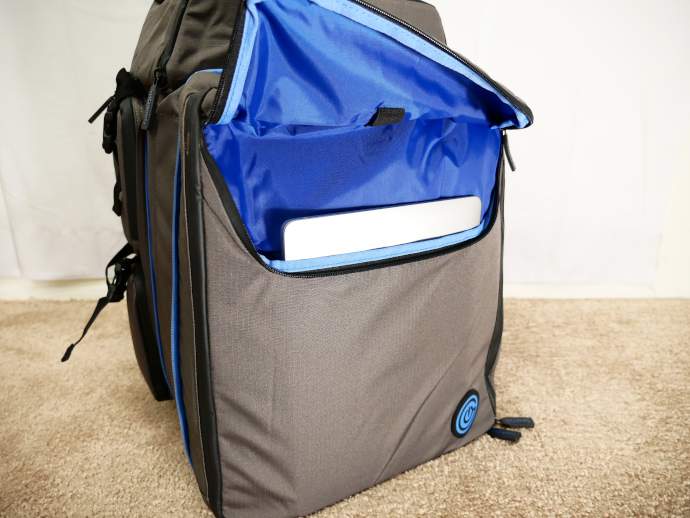 The external front side of the backpack has a general storage compartment that you can use for pretty much whatever you want, but the space is somewhat slim so I'd mainly use it for tech cables, paper, notebooks, convention lanyards, and maybe a tablet.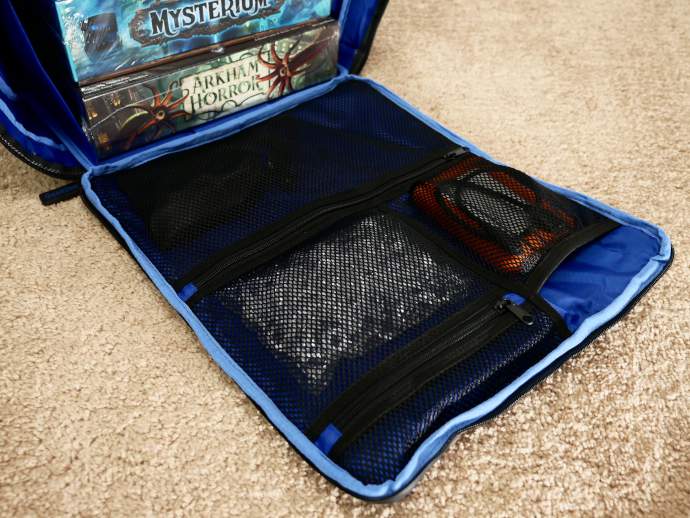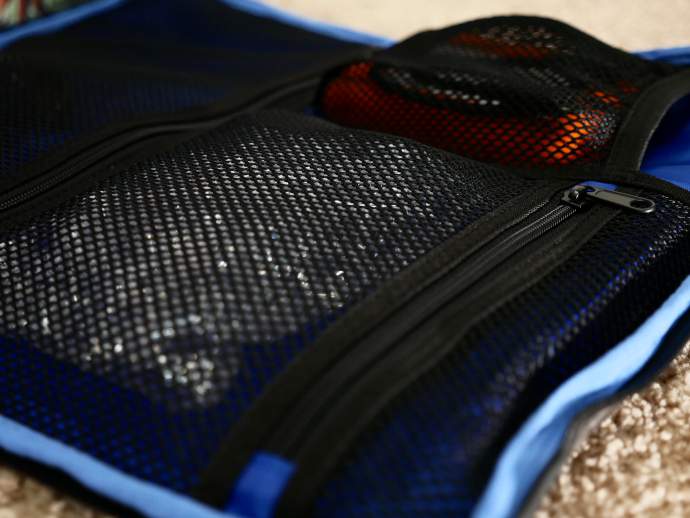 The internal front side opens up and you have access to three mesh storage pockets (two of them are zipped). This is perfect for dice, tokens, miniatures, and other gaming accessories that you don't want flying loose.
Side Pockets (x4)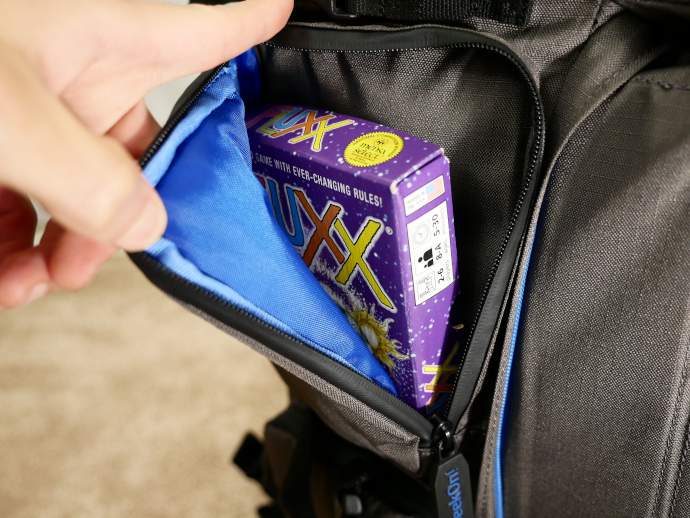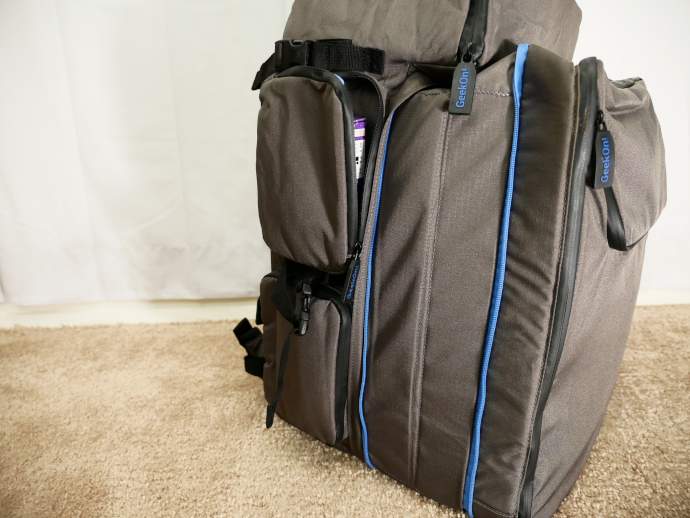 The four side pockets are all protected with zippers, making them great for miscellaneous storage of pretty much anything. I'd mainly use them for small card games and board games, but you could also fit your wallet, a power bank, snacks, etc.
Strap Pocket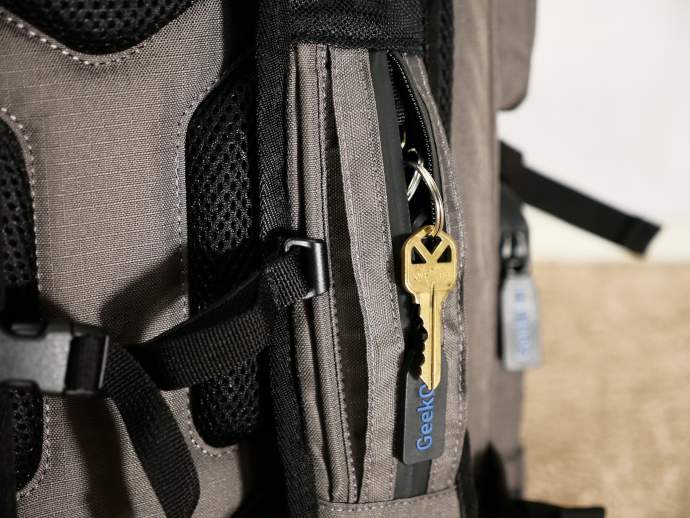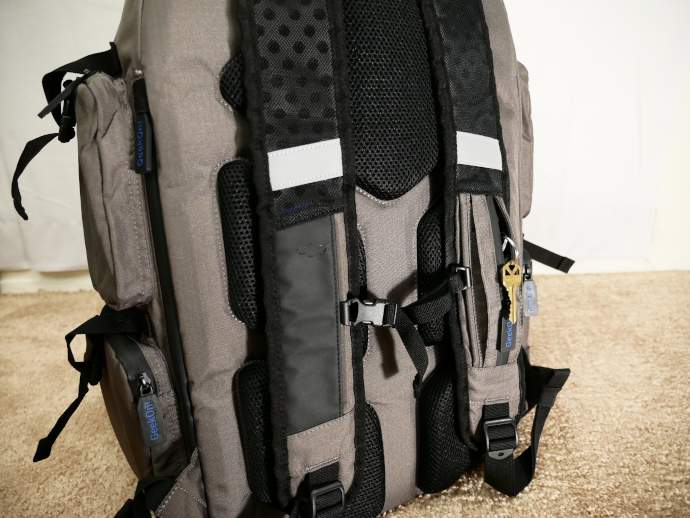 On the left strap, there's a zipped pocket with a ring inside. It's not a very big pocket, but you can use it to store small essentials like keys. The ring is useful as a hooking point for anything with a clasp (like the aforementioned Playmat Drybag accessory).
Glasses Compartment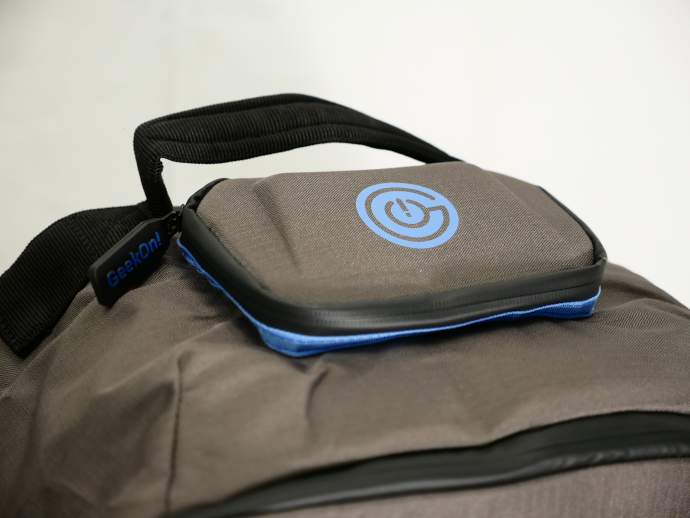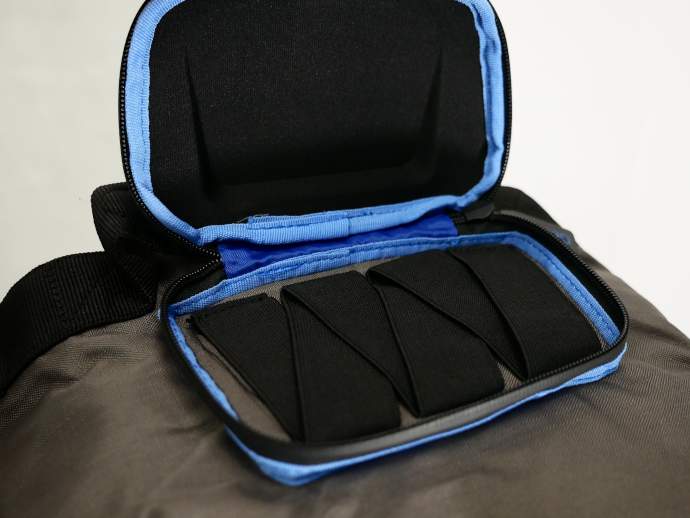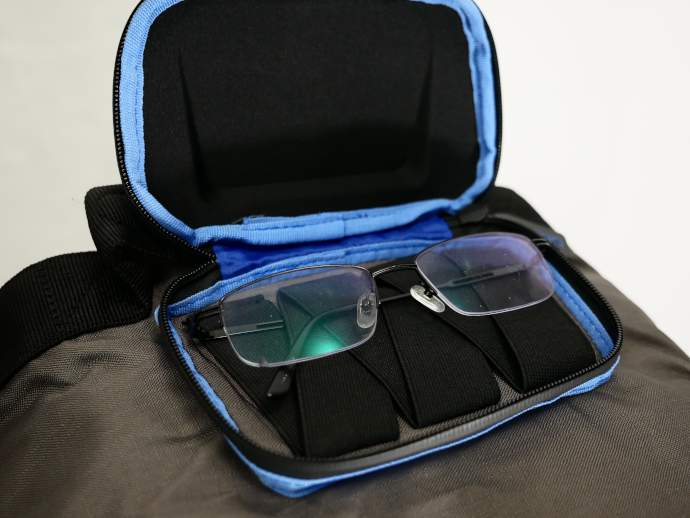 At the very top, there's a semi-hard shell glasses compartment with straps that you can link with the arms of your glasses. You could also use this for other small personal items: keys, contacts case and solution, wireless earbuds case, USB drives, etc. Your imagination is the limit.
Waist Strap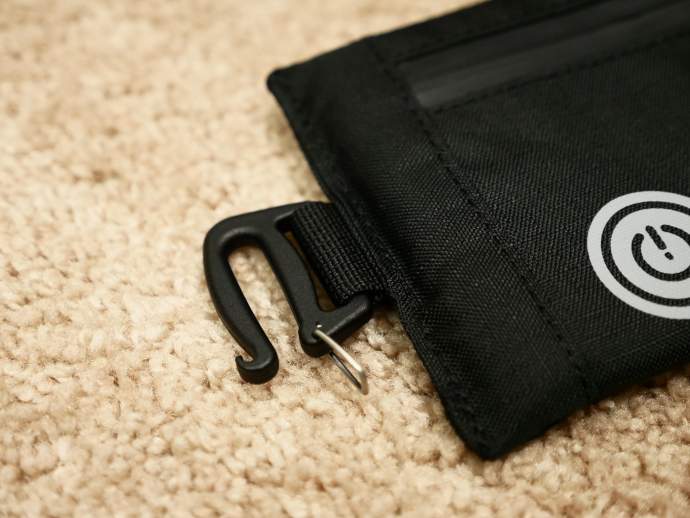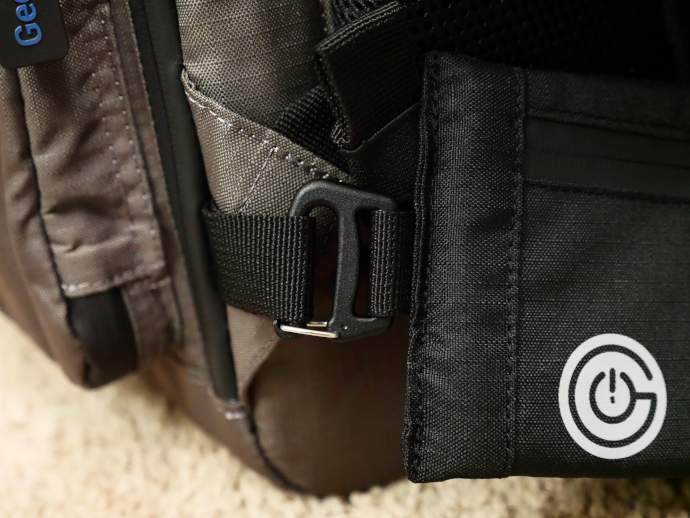 The waist strap is a separate accessory, but I do recommend it if you don't mind spending $25 for it. While the basic backpack has a sternum clasp that connects the two straps together, it's a bit small.
I much prefer the robustness of the waist strap, which connects to the bottom two corners of the backpack and creates a much stronger link that stabilizes the bag when it's really heavy.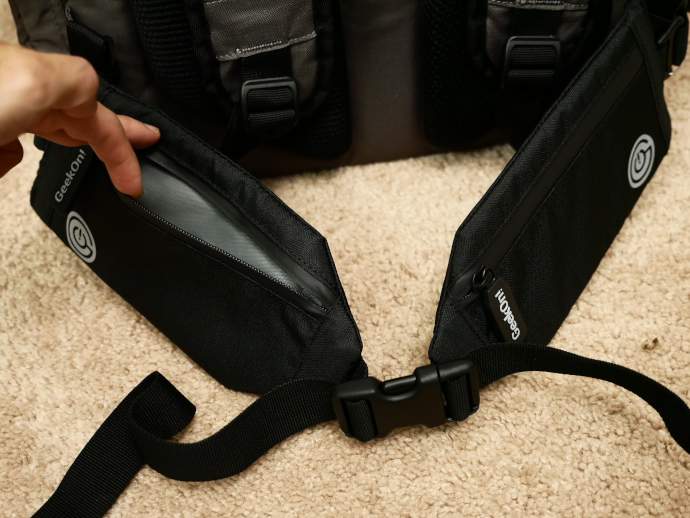 But what I like even more is that the waist strap comes with two more zipped pockets, and these are easily accessible even while wearing the backpack (because they're right by your hips). Perfect for storing essentials that you might need at hand while walking around.
Padding & Weatherproofing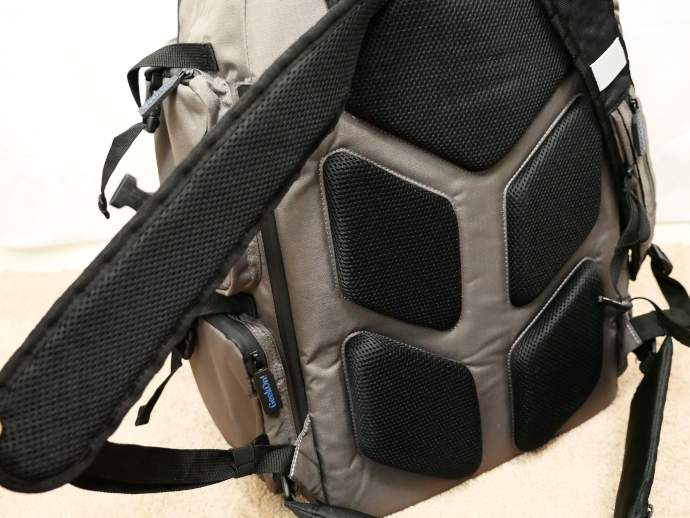 This bag is very padded all over the place, to the point that some might even call it excessive. The backing, the straps, the internals—everything (except for the very front-side accessories compartment) is protected.
I actually found it to be a bit annoying at first because the pads are rigid and don't make it easy to shift the bag around while you're setting it up. However, once it's set up fully, you'll be glad to have that protection.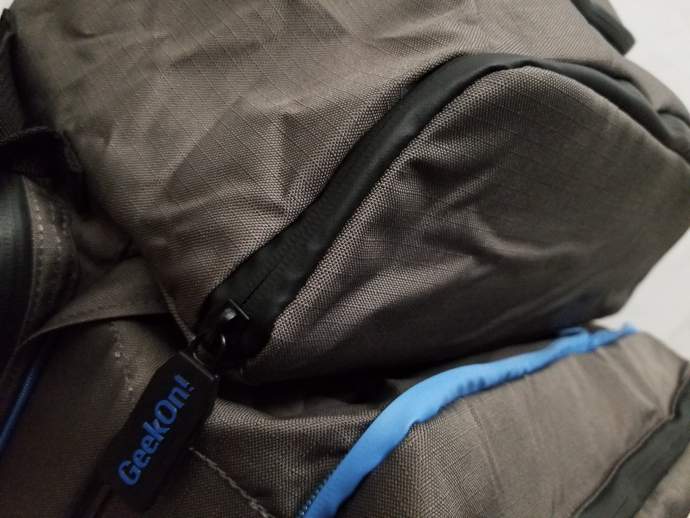 The entire exterior shell is made of a weatherproof (not waterproof) ripstop nylon material, which is peace of mind when you're taking hundreds of dollars of board games through rain. The zippers are watertight, so any water that hits the bag won't penetrate through the zipper seams.
A bag at this price point isn't only for carrying capacity but protection as well. With modern board games costing what they do, and with all the wear and tear they experience when being transported back and forth between locations, I can appreciate every bit of protection here.
Promo Code Alert
For the holiday season, you can get 49% OFF the Ultimate Board Game Backpack with this code:
GEEKONHOLIDAY15
Take advantage of this offer here.
What We Don't Like
Not Great for HUGE Games
As noted in the specs, the Ultimate Board Game Backpack's main compartment has inner dimensions of:
16.5 inches tall
13.25 inches wide
8.5 inches deep (12.5 inches when extended)
While that's enough space to comfortably fit most board games, some of the heavier and more complex board games come in boxes that go beyond the common "medium square" box (12 x 12 inches, 3 inches tall).
That means this backpack will never fit games like:
Kingdom Death: Monster (24 x 12.5 inches, 4.5 inches tall)
World of Warcraft: The Boardgame (23 x 11.5 inches, 4 inches tall)
Mechs vs. Minions (20 x 13.5 inches, 5 inches tall)
Amerigo (17 x 12 inches, 4 inches tall)
Can't Mix Square + Rectangle Boxes
Board games that adhere to the "long rectangle" box size may technically fit in the bag, but they'll need to stand upright—which leaves no space for common "medium square" style boxes.
This can be a problem since many old-school board games and several popular modern board games come in a "long rectangle" style:
Gloomhaven (16 x 11.5 inches, 7.5 inches tall)
Scythe (14.5 x 12 inches, 4 inches tall)
Concordia (14.5 x 10.5 inches, 2 inches tall)
Monopoly (15.75 x 10.5 inches, 2 inches tall)
The Game of Life (15.75 x 10 inches, 2.5 inches tall)
If you want to carry boxes of each style, they won't all fit together so you'll have to separate them. (I recommend using the Ultimate Board Game Backpack for all "medium square" boxes since the "long rectangle" boxes are more versatile for fitting into other carrying solutions.)
No Wheels
One common complaint about the Ultimate Board Game Backpack is that it's obnoxiously large in crowds. That's an obtuse criticism, as that would be true of any back-mounted solution that can carry this much stuff.
However, in situations where back-mounting would be obnoxious behavior—like, say, walking through crowds at a convention—it would be nice if the Ultimate Board Game Backpack had wheels.
While it does have a grab handle, let's be honest: who'd want to carry this thing one-handed, especially when it's maxed out with large board games? I'd much prefer to plop it on the ground and roll it around.
Expensive Price Tag
On the one hand, a lot of technology and design went into this bag: so many pockets, so many zippers, lots of padding, quality material, sleek and tasteful design. On the other hand, $129 is a lot to swallow for a bag.
I'm not saying it's unreasonably priced, because the value is absolutely there. A carry-on luggage bag with expandable main compartment of similar quality costs ~$150, and this bag by GeekOn has way more space.
But, yeah, it's undeniably expensive. It's a luxury-style solution with corresponding price tag, so it's certainly not for everyone.
GeekOn Bag vs. Cajon Bag
One of the main criticisms against the Ultimate Board Game Backpack is that you can get the same job done with a simpler cajon bag.
The most frequent recommendation I've seen is the ChromaCast Large Cajon Bag, which is padded and has shoulder straps. The cons are mostly the same—it's also obnoxiously large—but it's a fraction of the price, so it's a much easier pill to swallow for most board gamers.
Is GeekOn's bag really that much better? Does it justify its much higher price point? Honestly, it depends.
For me, I've done the whole duffel bag/luggage case/cajon bag thing many times, and I hate how everything gets crammed together in one or two large voids. The smaller games slide around, the boxes get knocked together, and some even slip open and spill their contents.
I've also grown out of the mentality of a bag being "good enough" if it got the job done. These days, I don't feel good lugging around huge IKEA bags or cheap cajon bags. I like the premium experience of higher-quality materials, cleaner designs, and—I admit—the novelty factor.
So, yes, the Ultimate Board Game Backpack is a luxury-style solution for a common problem. It's definitely not for everyone.
Promo Code Alert
For the holiday season, you can get 49% OFF the Ultimate Board Game Backpack with this code:
GEEKONHOLIDAY15
Take advantage of this offer here.
The Bottom Line
If all you care about is a practical carrying solution that doesn't cost much, then IKEA bags might be better for you. But if you care as much about experience as you do function? Then I recommend this bag.
It's expensive so you'll need to do a lot of collection carrying to make it worth your while. If you're playing once a week (or more) and carrying your board games to those sessions, it'll pay for itself in no time.
As for me, you'll never catch me lugging around my beloved board games in IKEA duffels or cheap cajon bags. I'm no longer a broke college kid and my board games deserve better than that, which is why the Ultimate Board Game Backpack is my favorite carrying solution to date.
GeekOn Ultimate Board Game Backpack
GeekOn Ultimate Board Game Backpack
This reinforced and weatherproof backpack is the ultimate carrying solution for board gamers. If you frequently take your board game collection with you on the go and you're ready to graduate from tote bags, this is the one.
This reinforced and weatherproof backpack is the ultimate carrying solution for board gamers. If you frequently take your board game collection with you on the go and you're ready to graduate from tote bags, this is the one.
The Good
Expandable main storage fits "medium square" board game boxes laid flat and stacked
Additional pockets and compartments for laptops, accessories, peripherals, and even glasses
Thick padding on all straps, backing, and internal compartments
Weatherproof shell and waterproof zippers for rain and moisture protection
The Bad
Won't fit huge games (boxes that exceed 16.5 inches at their longest)
No wheels for easier transport of larger and heavier loads
Expensive