You either love or hate dating simulators—it's hard to fall in between. The cheesy, cringeworthy circumstances of a dating sim are enough to make some players stop playing immediately.
But still, that very same ridiculous content is what fuels so many to love dating sim games and why they find them so addictive.
Even if you aren't interested in the romance aspects of dating simulators, you can still find plenty of entertainment in the intentional (or unintentional) humor throughout these games.
Take a break from the real-life dating world and find your next true love in one of these oddly hilarious dating sim games on Steam.
10. Dialtown: Phone Dating Sim
We're all a little too addicted to our phones these days, but this game takes that to another level.
In Dialtown, you'll wander into a town where everyone has phones, cameras, or typewriters for heads. The art style is a mixture of real-life photography, 3D models, and 2D illustrations, making it one of the most visually distinct games on Steam.
The writing in Dialtown is consistently weird but in a wonderfully unique way. The humor veers toward edgy at times, but it never delves into meanness for meanness' sake.
There's a touching heart that beats somewhere beneath all the strangeness on display. It's difficult to explain without ruining the main experience of Dialtown, so suffice it to say: you won't be disappointed if you purchase this one.
Plus, there are 26 different endings you can unlock depending on which character you choose to romance.
9. Hooked on You
It's scary to fall in love, but that's kind of the point in Hooked on You.
This game takes place on Murderer's Island, where four Killers from Dead by Daylight are waiting to be wooed by you. You'll need to carefully balance your time between the characters—if you leave one unattended for too long, you're likely to be on the receiving end of a sharp hook.
Fans of the horror genre will have plenty to enjoy here, with a game that offers plenty to sink your teeth into. There are some deep-cut references to Dead by Daylight, but also some genuinely sweet moments mixed in.
And, of course, there's always the danger that you'll end up being killed rather than loved. But sometimes love hurts, right?
8. Otaku's Adventure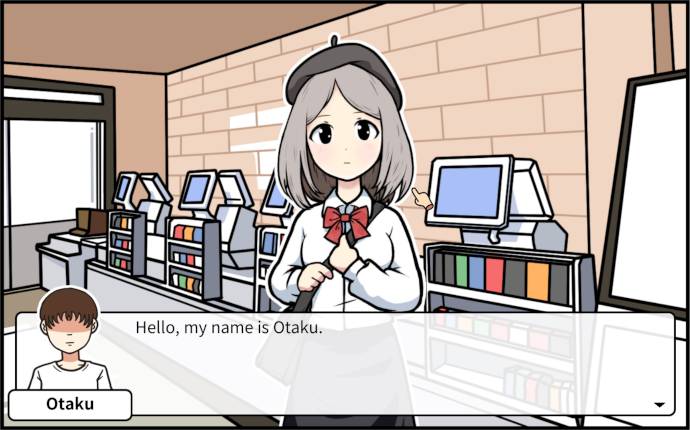 Otaku's Adventure tells the story of an anime-obsessed boy and his quest for love. Since your character is an otaku, he obviously doesn't have much charm when it comes to dating. This results in plenty of awkward encounters with the ladies.
The witty—and often poorly translated—dialogue makes Otaku's Adventure even funnier than it should be. But Otaku's Adventure isn't only about having conversations with potential dates.
This game also has plenty of minigames, puzzles, and battles to keep you entertained, plus several different endings that make it replayable.
7. Attack Helicopter Dating Simulator
Attack Helicopter Dating Simulator is as wild, crazy, and unusual as its title might make you think. It comes from the same creators who brought us Panzermadels: Tank Dating Simulator, with this one featuring a lineup of even more military machinery-inspired dates.
The fact that each potential partner is named after an actual helicopter makes the game that much better. Will you pursue BellBoeing V-22 Osprey, AH1Z Viper, or Mil Mi-24? The choice is yours.
6. Love Esquire
Not everyone gets to be the main character in their own story. Sometimes you have to play the sidekick.
In Love Esquire, you play as a lowly squire in a kingdom on the brink of war. You only have a few months before you ship out to war, so you need to be sure you find love before you head off to likely death.
Over a limited number of days, you have to raise your stats and woo one of five potential wives, meaning you need to be careful in how you balance your time spent. Each playthrough can be completely different, leading to over ten different endings to unlock.
Love Esquire's writing is very tongue-in-cheek, with self-deprecating humor undercutting some of its more touching moments. While not every joke lands, the game is so well-polished that it's simply fun to play.
5. I Love You, Colonel Sanders
I Love You, Colonel Sanders will have you drooling—not only for some crispy drumsticks, but also for the young and handsome Colonel Sanders. The game transforms the KFC icon into an anime character with stylish glasses, prominent cheekbones, and silky white hair.
You take on the role of a culinary student who studies alongside the future franchise founder. Your choices determine whether Colonel Sanders will choose you as his business partner, and perhaps even his romantic partner.
4. Purrfect Date
It was bound to happen eventually—someone, at some point, was going to make a game where you can date a cat. Not just any cat, though, but a talking cat on an island populated exclusively by feline paramours.
Does that sound odd? Yes. Is it a fun dating sim game? Oh, absolutely!
The real fun of Purrfect Date is in the way the story of the island unfolds with each playthrough. Each time you play, you're a research assistant on Cat Island, which holds a sinister secret that takes time to come out. The more you uncover, the more the game's story comes into focus.
Plus, it includes more cat-based puns than most people can handle. Beyond that, there's much more to Purrfect Date than meets the eye.
3. Dream Daddy
You're a single father who has just moved to the quiet town of Maple Bay. Lucky for you, the entire town is filled with plenty of dads who are handsome, quirky, and, most importantly, single.
If you're looking to get your fill of dad jokes, Dream Daddy can satisfy that craving. Pursuing the seven dateable dads results in multiple different endings, giving you the chance to replay it several times—that is, if you can take the dad puns for that long.
2. Monster Prom
In a world where various monsters all attend high school together, the biggest event on anyone's social calendar is obviously the Monster Prom!
With visual novel elements mixed in with its surprisingly complex dating sim mechanics, Monster Prom is one of the best, funniest, and most well-polished dating sim games on Steam.
There's plenty of adult humor and language, but at the core of the game is a solid story centering on the idea of finding love in the most treacherous of settings: high school.
Eligible monsters include Scott the Goodest Boy Werewolf, Poly the Party-Animal Ghost, and Zoe the Eldritch Nightmare, but there are countless secret love interests you can discover as well. Play your cards right and you can even hook up with the game's Narrator.
With sharp writing and a great mix of low-brow and high-brow humor, this is easily one of the funniest dating sim games on Steam.
1. Hatoful Boyfriend
Yes, Hatoful Boyfriend is a pigeon dating sim. You play as the sole human student at the St. PigeoNation's Institute, a famed academy for gifted birds. As you traverse the halls of your new high school, you'll meet pigeons of all breeds and personalities.
Despite the seemingly silly storyline, Hatoful Boyfriend has a shocking amount of depth. The decisions you make along with the feathered suitor you choose will affect your progress in various ways, paving the way for several alternate endings.
It's no surprise why Hatoful Boyfriend is considered one of the best dating sim games: it's funny, it's complex, it's replayable, and it's loads of fun.
Virtual Dating = No Heartbreak
Unlike real-life dating, virtual dating rarely results in heartbreak. Instead of risking your integrity, why not play it safe and date a virtual pigeon—or maybe even Colonel Sanders?
These quirky dating sim games are undoubtedly weird, odd, and unusual, but you'll be surprised at how quickly you get absorbed in their stories. And playing a funny dating sim can instantly boost your mood!
For more laughter-inducing games, check out these hilarious games for much-needed comic relief: