As we near closer to the release of Wes Anderson's The French Dispatch, we think it's only right to take a stroll down memory lane and revisit this popular auteur's filmography.
The acclaimed director is known for his offbeat style of storytelling and his insanely precise visuals. He loves symmetry, coordinated color palettes, and working with the same group of actors—including household names like Owen Wilson and Bill Murray.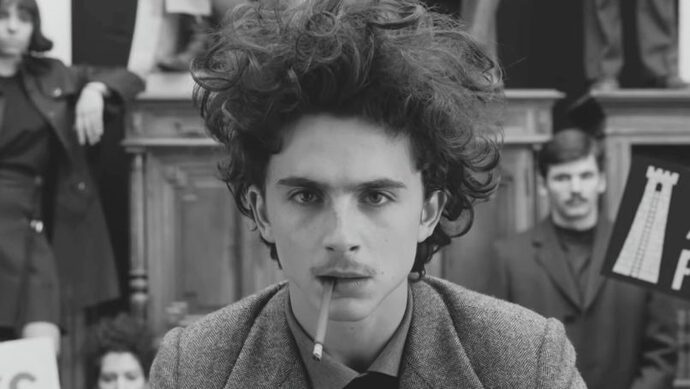 The French Dispatch is set to premier on July 6 and stars Timothée Chalamet, Bill Murray (of course), Tilda Swinton, Frances McDormand, Adrien Brody, and a whole bunch of other famous faces.
But before we dive into the inevitable greatness of The French Dispatch, we'd do well to familiarize ourselves with the director's past cinematic work. Here are the best Wes Anderson movies you need to watch!
9. Bottle Rocket (1996)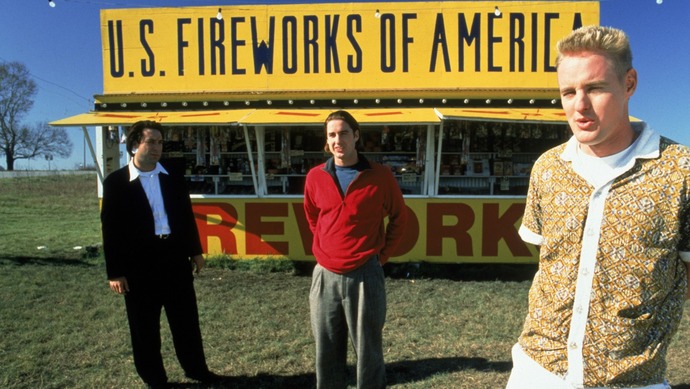 Bottle Rocket was Wes Anderson's first feature-length film, spawned from the black-and-white short film of the same name. Bottle Rocket wasn't only Anderson's directorial debut, but also the acting debuts of both Owen and Luke Wilson.
After meeting at the University of Texas, Anderson and the Wilsons teamed up to try and get their foot in the industry's door. Luckily, they were successful and launched Anderson's future in cinema.
This crime-comedy begins when Anthony (played by Luke Wilson) is fresh out of a mental hospital. His eccentric buddy Dignan (played by Owen Wilson) persuades him into a series of heists across Arizona. They soon discover they aren't cut out for the criminal lifestyle.
It's a strong first movie from Anderson, acting as a blueprint for his later use of dark comedy, dead-pan dialogue, and active camera movements.
8. Isle of Dogs (2018)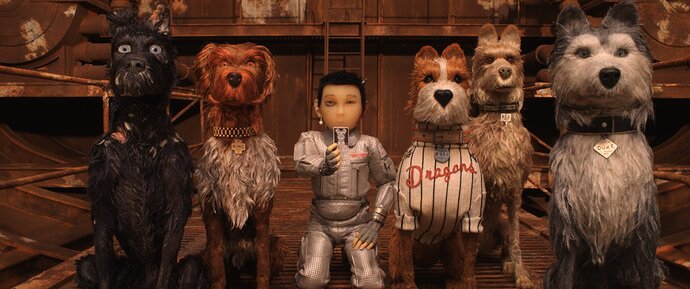 Wes Anderson has done stop-motion cinema twice—and both attempts were highly skilled, highly successful, and highly unique. Even though the fantasy adventure Isle of Dogs ranks eighth on our list, it's a brilliant film worth watching.
Similar to Anderson's Fantastic Mr. Fox, Isle of Dogs uses hand-crafted miniatures to build an intricately detailed world. The images are crisp and widely-framed, echoing the visual precision that Anderson often exercises in his live-action movies.
Isle of Dogs is set in Japan, where all the dogs in Megasaki City are exiled to Trash Island because of a virus. Twelve-year-old Atari sets off to find his old dog Spots, while befriending a pack of mutts and ultimately saving the canine race as mayor of Megasaki.
The ensemble cast includes Bryan Cranston, Jeff Goldblum, Edward Norton, Scarlett Johansson, Greta Gerwig, and Bill Murray.
7. The Life Aquatic With Steve Zissou (2004)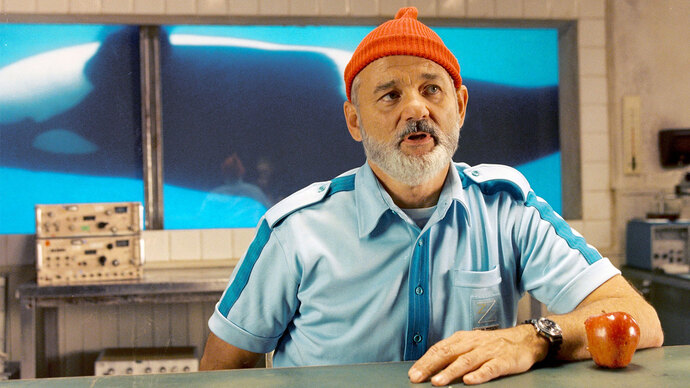 Bill Murray appears in every single Wes Anderson movie, but there's only one where he's the star of the show: The Life Aquatic with Steve Zissou (or simply The Life Aquatic) tells the story of an oceanographer who sets out to kill a jaguar shark.
His journey is documented by a film crew, who follow his adventures on his aging submarine. Also on board are a pregnant journalist (played by Cate Blanchett) and a man who believes Zissou to be his father (played by Owen Wilson).
The set design of The Life Aquatic is particularly creative and Anderson-esque. Cardboard props mingle with a real-life ship, and one particularly great shot tracks across the 2D vessel as if it were a dollhouse.
In the same way that realistic set pieces mix with childishly hand-crafted bits, drama mixes with comedy. The film also tackles Anderson's recurring theme of a troubled or atypical father figure. It might be weird, but it sure is wonderful!
6. The Darjeeling Limited (2007)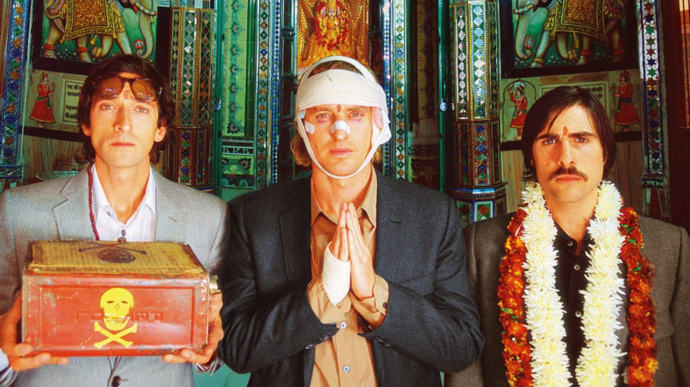 Wes Anderson enjoys stretching his cultural palette from time to time, appreciating and celebrating worlds that aren't the standard Western setup. The Darjeeling Limited is one example of this, transporting viewers across India alongside three bewildered brothers.
Francis (played by Owen Wilson), Peter (played by Adrian Brody) and Jack (played by Jason Schwartzman) meet on board the train to reconcile and grieve their father, who passed a year earlier. The air is heavy with tension to start with, cracking up into humorous mishaps and moments of self-discovery.
The Darjeeling Limited is both a physical and spiritual journey for the three distant brothers. It's passionate and personal, cultivating much of Anderson's wacky energy. The vibrant, floral colors and beautiful rituals make us want to catch the Darjeeling Limited, too!
5. The Royal Tenenbaums (2001)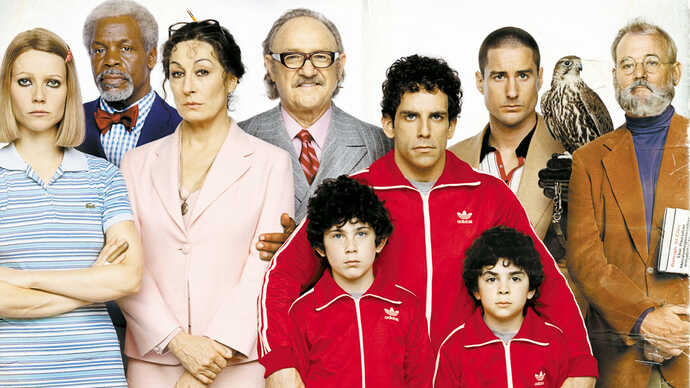 Like most of Wes Anderson's films, The Royal Tenenbaums features a star-studded ensemble cast (including "The Frat Pack") that's powerful enough to reel in an audience by itself. But they're working with surprisingly great material here.
Gene Hackman plays Royal Tenenbaum, a neglectful father who fakes a cancer diagnosis to win back his family (and their money). His three genius children—a mathematician, a tennis prodigy and a play-write—have grown into a post-success slump.
Chas (played by Ben Stiller) is a paranoid and over-protective parent. Margot (played by Gwyneth Paltrow) is a chain-smoking adulterer. Richie (played by Luke Wilson) is recovering from a mental breakdown on a cruise ship.
The Royal Tenenbaums is bold, quirky, and gorgeously designed—from costumes, to set pieces, to color grading. As usual with Anderson, the story is bittersweet in how it explores somber themes with a light hand that's never romanticized.
4. Fantastic Mr. Fox (2009)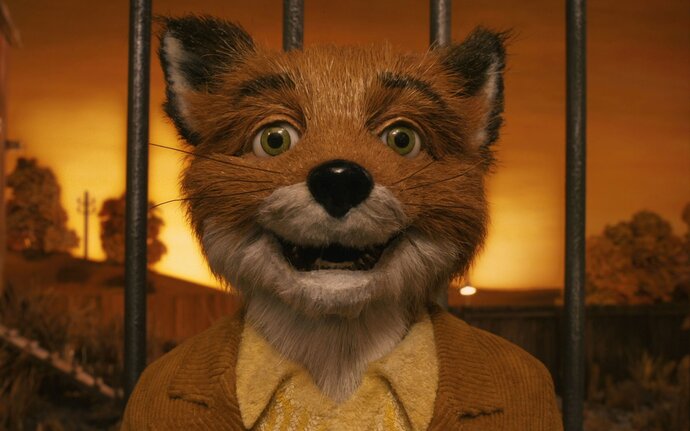 Fantastic Mr. Fox changed the game for animated movies. Puppet-animation is a dying breed in cinema, overshadowed by new computer animation technology like that used by Pixar.
But with an imaginative master like Wes Anderson behind the scenes, the genre was rejuvenated and gave Tim Burton a run for his money. This claymation film is now a family favorite, allowing even children to enjoy the "fantastic" world of Wes Anderson.
Based on a book by Roald Dahl, Mr. Fox (voiced by George Clooney) reverts to his old criminal ways after living the life of a family man for 12 fox years. With the help of his possum friend Kylie, Mr. Fox raids a human farm and gets hunted down.
A whole lot of goofy fun ensues, featuring the voices of Meryl Streep, Jason Schwartzman, Willem Dafoe, Sir Michael Gambon, Owen Wilson, and even Wes Anderson himself.
3. Moonrise Kingdom (2012)
Wes Anderson has an affinity for child characters and knows how to perfectly embody the innocence, awkwardness, and creativity that's inherent in all children.
Moonrise Kingdom follows a 12-year-old orphan named Sam (played by Jared Gilman) who runs away with a young girl named Suzy Bishop (played by Kara Hayward). Their escapade triggers a search party, where the two are eventually found by Captain Duffy Sharp (played by Bruce Willis) and Sam is threatened with social intervention.
Moonrise Kingdom is a heartwarming coming-of-age movie imbued with nostalgia. The sepia tones and handwritten letters give the film a tender, vintage sort of feel—even more so than Anderson's other films. It's romantic and charming, featuring many of the same actors we've seen recurring on this list. (Did somebody say Bill Murray?)
2. Rushmore (1998)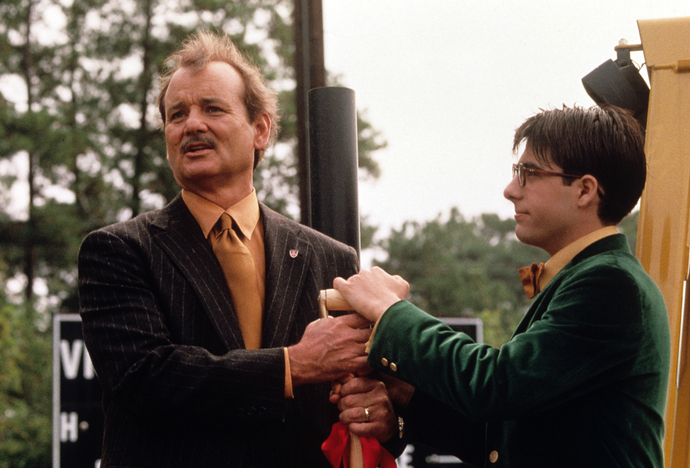 Rushmore is one of Wes Anderson's earliest movies, yet remains one of his absolute best movies. As the second feature-length film he ever made, Rushmore is more rustic than his later, more polished movies.
That said, it's just as aesthetically striking and directorially skilled in how it uses key elements of comical dryness, overhead shots, themes of death, and character-centric worldbuilding. Anderson's early screwball is one the most beloved by fans and film critics.
Jason Schwartzman stars as the ambitious 15-year-old Max who falls for a teacher. Max is confident and eccentric, participating in every extracurricular activity there is. But he struggles academically and faces possible expulsion.
1. The Grand Budapest Hotel (2014)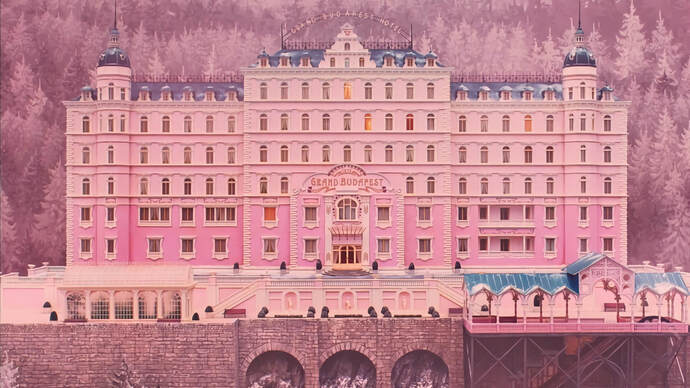 It's easy to fall into the trap of style-over-substance when making a film as pretty as this one. Fortunately for us, Wes Anderson knows what he's doing after two decades of filmmaking practice.
Set in the 1930s, Ralph Fiennes plays M. Gustave, the concierge of a first class hotel/ski resort. Zero (played by Tony Revolori) is a lobby boy taken under Gustave's wing, who inherits a priceless painting and becomes the prime suspect for murder.
The two end up navigating an outlandish, surprisingly funny journey through the snow, escaping prisons and falling into vans of pastry.
The Grand Budapest Hotel is absolutely stunning. It's brimming with period Hungarian visuals, soft pink hues, and old movie aspect ratios. The satisfying symmetry, geometric framing, and warm lighting all contribute to the feeling that we're watching a painting in motion.