The musical guests throughout The Simpsons history have ranged from iconic stars to up-and-coming talents, with three of the four Beatles making their own animated appearances at some point.
Music is a significantly important part of the show. From Lisa's saxophone to Bart's brief time playing the guitar, the show has always found ways to entertain audiences of varying musical tastes.
However, The Simpsons highlights its musical stars in Springfield in such a unique way that they often end up as the show's best moments. Here are my picks for the best musical guests in The Simpsons.
8. Michael Jackson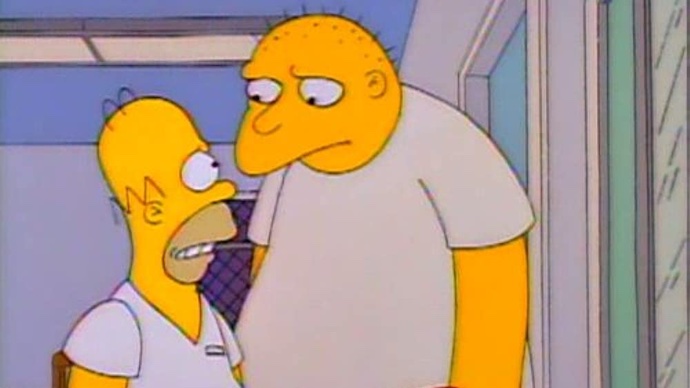 Credited as John Jay Smith, Michael Jackson was the first huge star to appear in the show, all because Jackson himself was a big fan.
However, his appearance went beyond your typical musical guest appearance. In The Simpsons, Jackson played a mental patient named Leon Kompowski, who shared a room with Homer when he's committed.
Homer brings Kompowski home—thinking he's Jackson—and the episode spins on perfectly from there.
Over the episode's 22 minutes, Michael Jackson's performance is committed, funny, and full of jokes about the singer himself, which only makes it better in retrospect.
7. The Who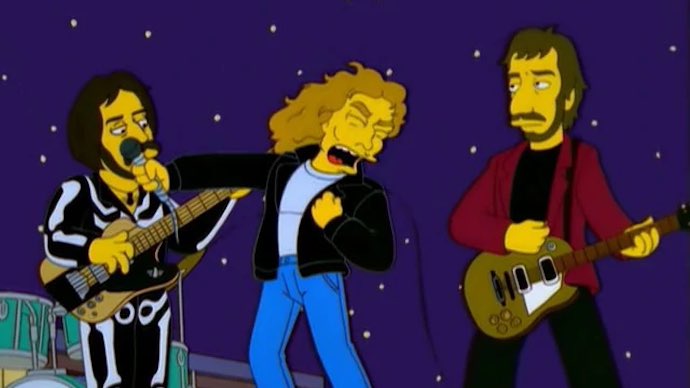 When Homer manages to divide Springfield into two halves, he tries to steal the concert that "Old Springfield" is putting on, which will feature The Who who are playing in the city.
The legendary English rock band makes the most of their appearance as they agree to play in "New Springfield"—along with questioning Homer's bid to have them play daily concerts there.
Roger Daltrey, Pete Townsend, and the rest get their moments to make jokes and bring down the gigantic wall splitting Springfield in half, all while leaving us with smiles as Homer fawns over them.
6. Ringo Starr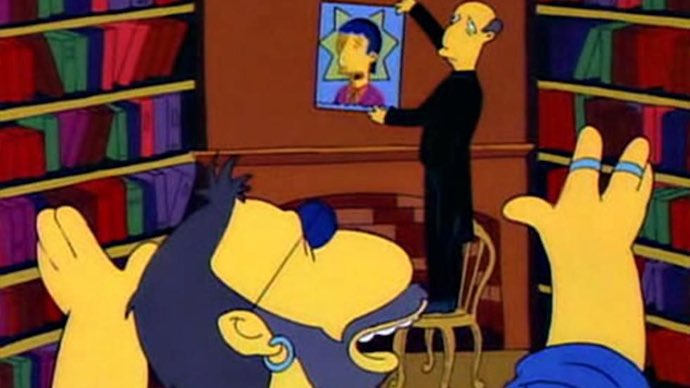 When Marge becomes a painter, she's chosen by Charles Montgomery Burns to paint a picture of him for an upcoming gallery dedication. However, due to his treatment of the whole Simpson family, Marge loses her temper and can't find the will to finish her work.
At that moment, Ringo Starr is opening mountains of mail from fans in England and sees the picture that Marge painted of him as a girl.
So, as Marge loses faith in her ability, she gets a kick when Starr sends her a message back, telling her how much he enjoyed her work.
Ringo Starr is funny and typically cool in the episode, as his fictionalized self hangs Marge's picture on his wall amidst the decades of fan mail he's trying to catch up on.
5. Jackson Browne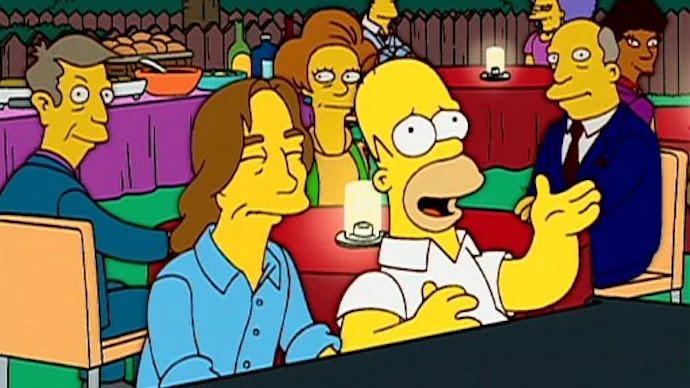 After Homer is continually injured by Marge, it's revealed that Homer puts so much stress on his wife that she unwillingly wants to injure him on purpose out of frustration.
So, knowing that he's to blame for the situation, Homer gets Jackson Browne to attend a large gathering celebrating his love for her.
For his part, Browne is funny and gentle—in keeping with the Californian folk singer's image—but his lyrics to his famous song "Rosie" are altered to fit Homer and Marge's story, and it's brilliant.
4. Paul and Linda McCartney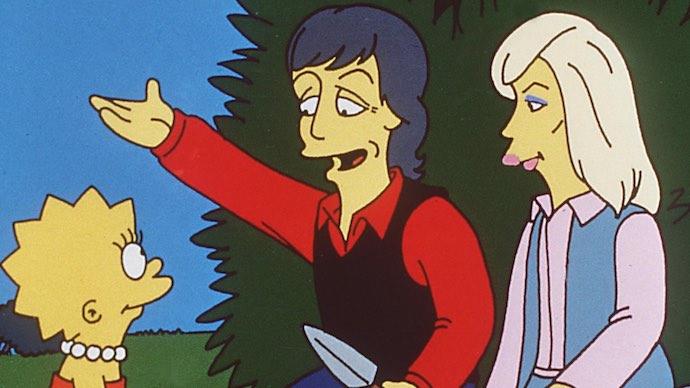 When Lisa gives up meat after going to a petting zoo, she embarks upon a quest to evangelize those around her. However, her family is less than willing and Homer becomes enraged after she ruins his barbecue.
The angry Lisa heads to the Kwick-E-Mart, and Apu introduces her to Paul and Linda McCartney, who help her with her animal rights views.
Seeing Paul in the show is a moment that few will ever forget, as his role is one that sticks to a message close to his own heart. Furthermore, Linda passed away soon after this appearance, making it an especially bittersweet and beautiful episode to rewatch.
3. George Harrison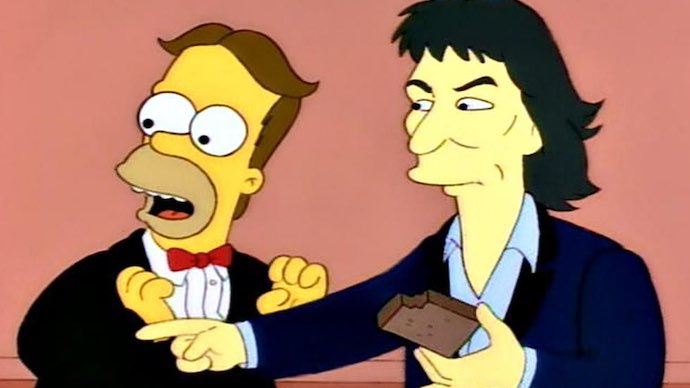 George Harrison's appearance in The Simpsons was short and only lasted a few lines, but every single line made the episode so much more memorable in the hearts of fans.
When Homer's barbershop band hits the big time, Homer is approached by the former Beatle. Homer gets very excited—not by Harrison himself, but by the brownie he's holding. Harrison tells him where they are, and Homer gorges himself on the pile.
Then, at the end, as Homer reunites with his band atop Moe's Bar, Harrison's car drives past and the icon says: "It's been done." Then he leaves, making the Beatles-influenced scene even funnier.
2. Billie Eilish and Finneas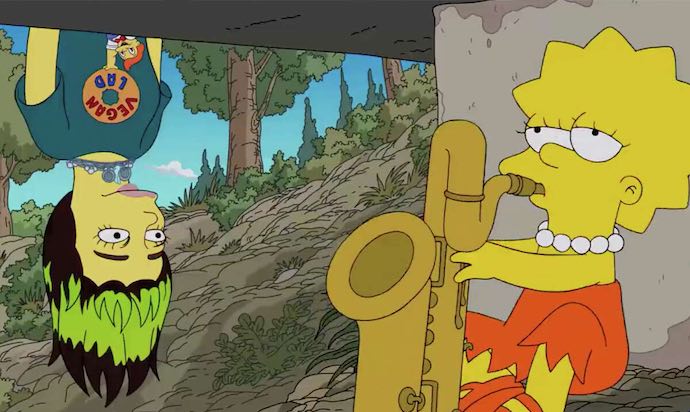 When Lisa is kicked out of the house—after her saxophone practice aggravates her family—she goes to sit under a bridge. At that moment, Billie Eilish drives by in her Dodge Charger.
Eilish gets out of her car at the sound of Lisa's playing and gets Finneas to hold her legs while she looks under the bridge, only to find Lisa.
The short is one of the funniest in decades from the show's run, with Eilish poking fun at her own use of hair color by having it outlined on the side of her recording studio.
Moreso, it's completely in line with contemporary trends, and it finds a fun way of making the overlap humorous and embracing.
1. Mick Jagger, Keith Richards, Lenny Kravitz, Tom Petty, Elvis Costello, and Brian Setzer
The episode of The Simpsons titled "How I Spent My Strummer Vacation" is one of the best, as Homer is sent to Rock & Roll Fantasy Camp by his family for doing so much for them.
The list of stars teaching there is arguably the greatest single-episode list of celebrities in the show's history. And, what's more, they all get their moments to be funny.
The biggest stars—without disrespecting the other musicians in the episode—are Mick Jagger and Keith Richards, who both shine as bandmates, teachers, and rock stars.
Seeing some of the most iconic musicians of all time together is fun, but the fact they all enjoy so much screen time makes it better, capped off with an ending that's pure rock 'n roll.