Every child has had a favorite toy—something they cling to for comfort and joy. When Jurassic Park came out and popularized dinosaurs, it had a big impact on the toy manufacturing industry.
Suddenly, dinosaur toys were everywhere and kids couldn't get enough of them. But it wasn't just children—adults too were bewildered by the variety, and Christmas rushes felt much like the film itself: a terrifying chase through stores, fighting for your life against other shoppers.
Over the years, there have been many great Jurassic Park toys. But which were the best Jurassic Park toys? Here are our picks for must-have Jurassic Park toys.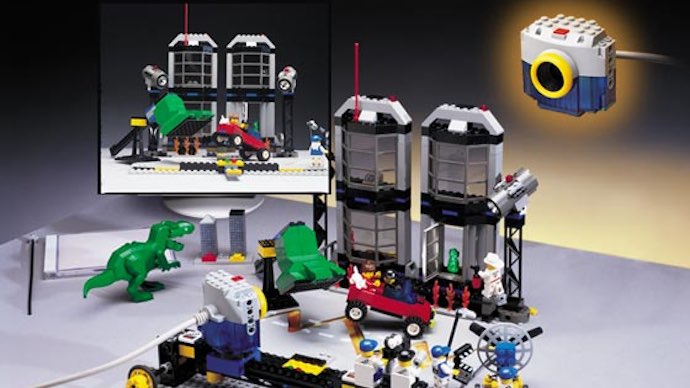 The LEGO 1349 Steven Spielberg Moviemaker Set was a toy that came out around 2002. It had a plug-in camera and LEGO kit built to look like it came from the set of Jurassic Park 2: The Lost World.
Furthermore, it had a giant T-Rex leg on a crane, a large T-Rex model, a LEGO car, several movie-esque lighting props, a full soundstage, LEGO figures of Ian Malcolm, Steven Spielberg, Julianne Moore, and a bunch of crew to work on the movie.
For kids who wanted to plug in the camera to their computer and put together their own Jurassic Park sequence, it was amazing!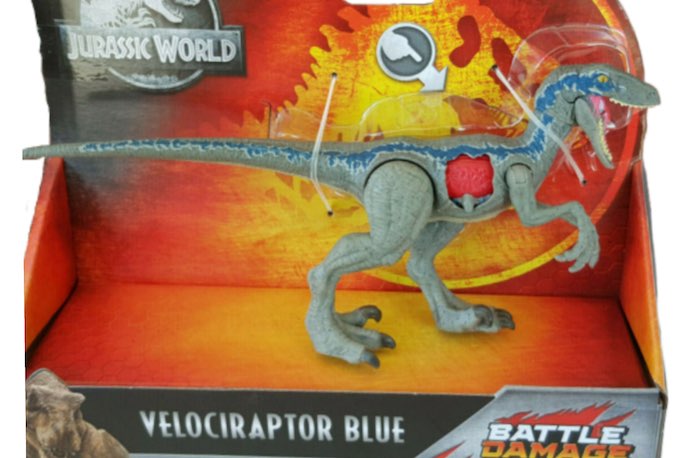 The Battle Damage Velociraptor was a toy that everybody could play with, no matter your age. The unit came with panels that move on impact, thus showing damage created by the ferocious battles these creatures have in children's minds as they play with them.
Velociraptors are cool, scary, and the main antagonists of the original movie, which is why the Velociraptor edition of the Battle Damage toys was a must-have for any dinosaur-loving child.
Though these creatures were not cheap, you obviously needed more than one. After all, how could any child be complete without adding a friend or foe to play or do battle with?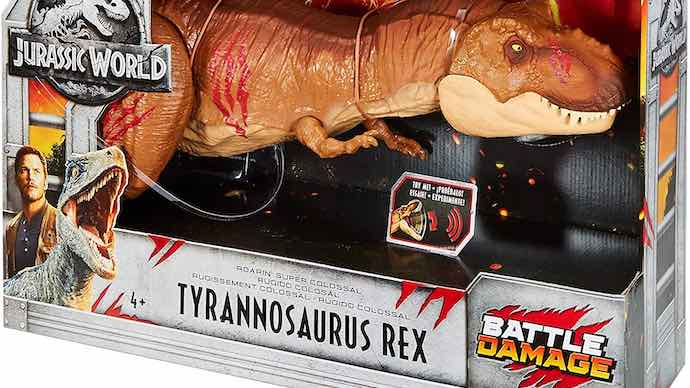 See, we said you'd need two. The T-Rex is the hero of Jurassic Park—the final dinosaur that saves Dr. Grant, Dr. Sattler, Lex, and Timmy from the jaws of the preying Velociraptors.
Pitting the T-Rex against the raptors happened in the film, and will happen again in the mind's eye of any child in an instant with the Battle Damage Roarin' Super Colossal T-Rex.
Bringing aspects of the movies to life is what the official franchise toys are all about, and with the T-Rex, it's all about carnage. The toy is 23 inches from tip to tail and can eat things through the mouth, such as smaller dinosaur toys. Yes, you read that right!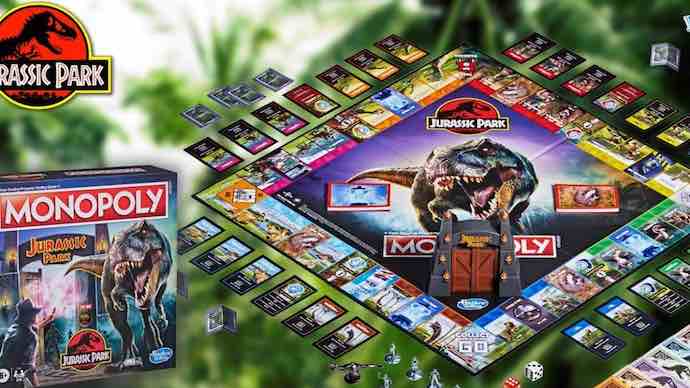 Playing Monopoly is a fundamental part of childhood, flipping the board when you're losing—usually due to the taunts of an elder sibling—and laughing maniacally when you're victorious.
Well, this Jurassic Park Monopoly set is the ideal way to introduce kids to the world of consumer capitalism while using dinosaurs to distract them from the rising cost of buildings.
All the essential parts of Monopoly are still in the game, so for those who are masters of it, the most valuable squares are still in the same places. It just has that added bite the classic game needed.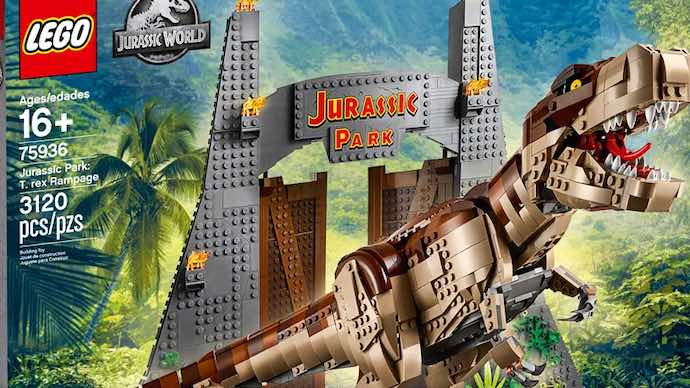 When LEGO gets together to make a classic toy set based on a movie, they rarely disappoint. When they released the Jurassic Park T-Rex Rampage Set, it had adults drooling as well as children.
The reason was simple: you could build the original doors to Jurassic Park and have a T-Rex to go along with it.
Fans of the original films needed this. It was a link to the nostalgia of one's childhood and—to top it all off—came with tiny LEGO versions of the original characters. Just take my money already!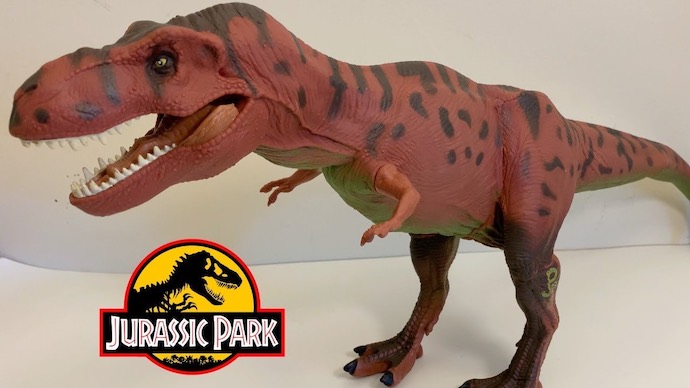 When the original Jurassic Park film was released, it smashed the box office and everybody lined up to see the movie over and over again. This led to the production of an accompanying toy line, which had a massive effect on the popularity of dinosaurs.
The 1993 Kenner T-Rex is a beautiful toy even by today's standards. It looks the part—scary and vicious—and has the best paint job of any Jurassic Park franchise toy ever.
Amongst collectors, the toy is now hot property. An original T-Rex in good condition can sell for over $100 each online.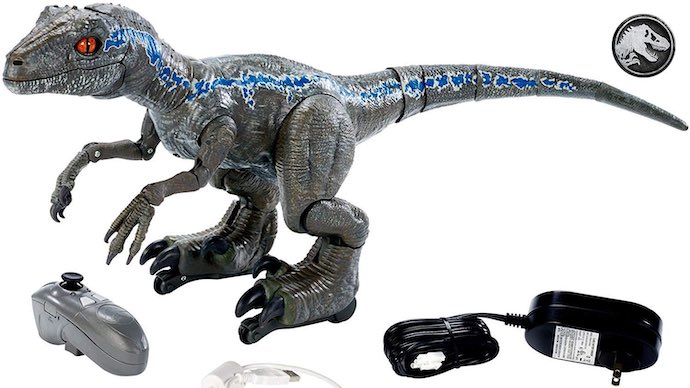 Having an Alpha Training Blue is what children everywhere dream of. She's a dinosaur from Jurassic World—the one Owen Grady has such a special bond with—and you can teach her to do things yourself.
If you're lucky enough to have a Blue, you can get her to spin, roar, and attack on command! For a long time, children have wanted a Velociraptor to do their bidding for them, and by owning a Blue, you can.
Of course, the toy is the latest in a long line of Jurassic Park-themed electronic moving dinosaurs, but this one is the most advanced yet. And she's the culmination of decades of children's dreams.