For some board game fans, part of the fun is in imagining the game pieces come to life as they play. And if you're a Disney fan, what could be more fantastic than seeing your favorite characters come to life right on your very own tabletop?
Lucky for us all, there are plenty of board games that feature Disney characters and worlds—and while some of them are obvious cash grabs, there are several that are actually quite good.
Whether you're a tabletop enthusiast or a Disney completionist, these Disney-themed board games should be on your radar. Check them out and maybe add a few to your collection!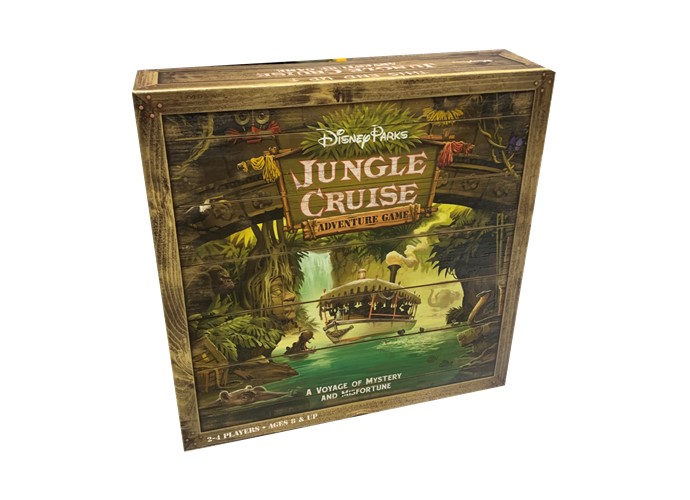 Players supported: 2 to 4 players
Average playing time: 45 to 60 minutes
Jungle Cruise has always been one of the more exciting Disney Park attractions. If you've never been able to visit a Disney theme park and experience this rollicking ride yourself, maybe try the board game.
Unlike the ride, the board game is more of a mystery and deduction game. Two to four players are tasked with delivering cargo through the deep jungle and its treacherous waters.
At the roll of a die, players (skippers) will move their boat forward and draw four cards for their navigation. On the way, skippers will vie for the most points to be the next company caretaker.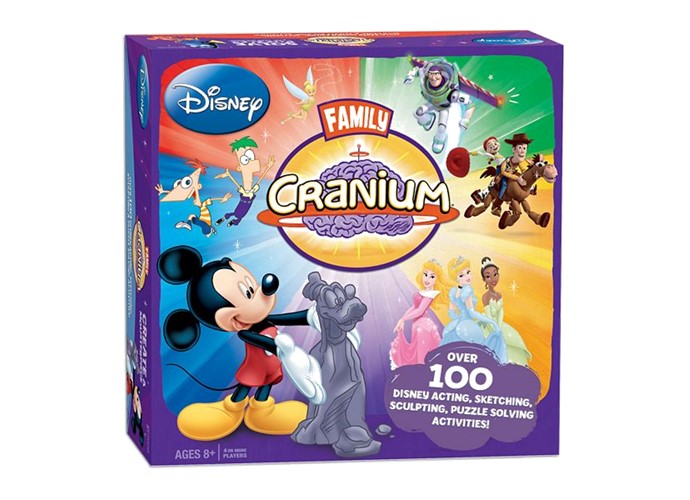 Players supported: 4 to 16 players
Average playing time: 30 to 60 minutes
Cranium is a classic brain teaser board game that tasks players with all kinds of creative challenges.
In Cranium: Disney Family Edition, you'll be drawing iconic Disney symbols, answering Disney trivia, miming characters like Ariel or Jack Sparrow, and scupting Disney objects with "Cranium Clay."
This Disney edition of the "whole brain" game features 16 activities, 400 cards, one lump of Cranium Clay, other materials for each game and, of course, stereotypical Mickey Mouse ears.
Get ready to experience the magic of Disney with the whole family!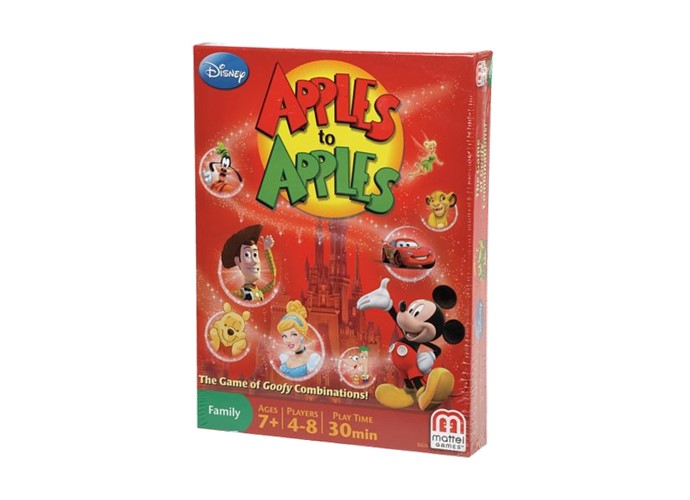 Players supported: 4 to 8 players
Average playing time: 15 to 20 minutes
Never played Apples to Apples before? Every player has a hand of "Thing" cards. On a player's turn, they draw a "Description" card, and the other players play one of their Things that best fit the Description.
Then, the active player judges which card is most fitting, and points are awarded—with ample laughter mixed in at the absurd suggestions.
In Disney Apples to Apples, the Thing cards are all Disney-themed. By incorporating Disney characters, this edition of the classic family game has a new kind of energy as players determine the best—or funniest—Mouse House characters for various descriptors.
The fun part is that everyone can judge the player's choice. Easy to play, this is a game for the whole family.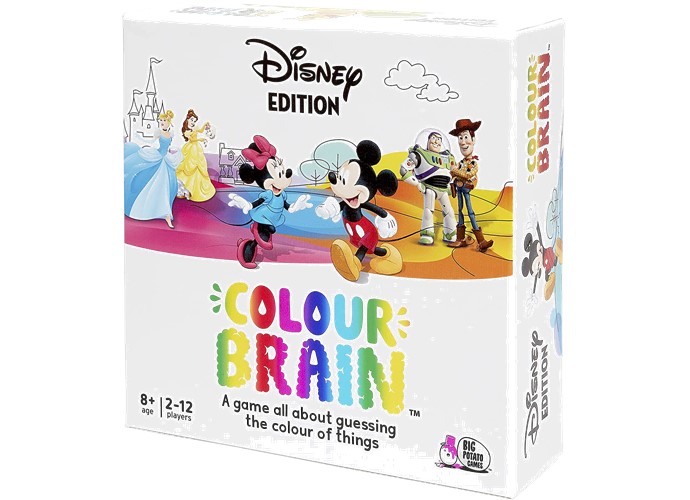 Players supported: 2 to 20 players
Average playing time: 15 to 30 minutes
Here's another easy game that's perfect for the family: Color Brain is the tabletop equivalent of the Jeopardy! game show.
In Color Brain, players are given a hand of color cards and their goal is to figure out which color card is the right answer to some color-related question. Beware, the questions can be quite tricky!
With Color Brain: Disney Edition, you might get asked about the color of Woody's vest in Toy Story or the color of Elsa's eyes in Frozen. There are over 250 questions from across 20 Disney movies.
Whether you play individually or in teams, Color Brain: Disney Edition is a fun game that'll delight fans who know their Disney movies well.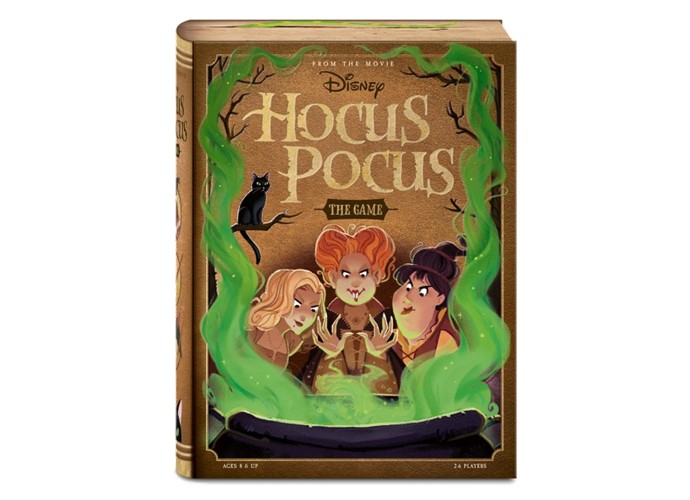 Players supported: 2 to 6 players
Average playing time: 30 minutes
Hocus Pocus is one of Disney's most fascinating cult classics, replayed every Halloween and quoted verbatim by fans worldwide.
But even if you haven't seen the macabre comedy about three witch sisters spreading doom over an innocent town, you can still have a lot of fun with this tie-in board game.
Disney Hocus Pocus: The Game sends players on a daunting task to tamper with the Sanderson Sisters' potion before the sun rises, which involves acquiring a handful of ingredients and placing them into a cauldron in the correct sequence.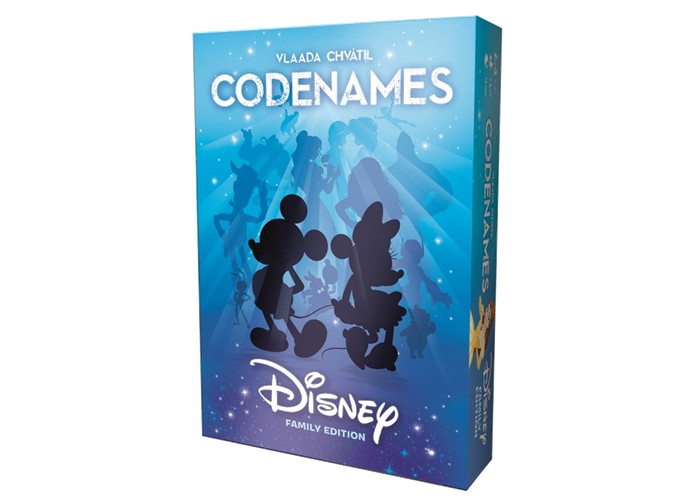 Players supported: 2 to 8 players
Average playing time: 15 to 30 minutes
Word association games like the original Codenames can be tough for various reasons: you need language proficiency, you need creative clues, and you need a deductive mind to solve those clues.
Codenames: Disney Family Edition makes the experience a little more family friendly—not that the original Codenames wasn't—by incorporating Disney terms and images as answers to be guessed.
Fans who grew up with Disney can easily embrace the game and sweep it. The trick is finding ways to associate the different heroes, villains, and sidekicks without triggering the game over spots!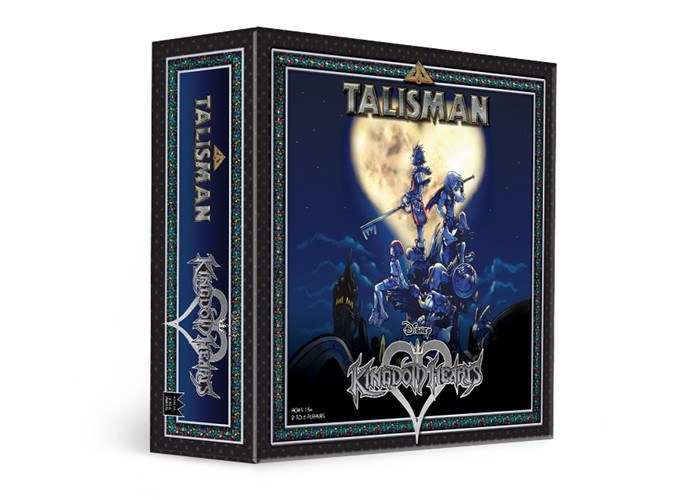 Players supported: 2 to 6 players
Average playing time: 60 to 90 minutes
This list would be incomplete without a Kingdom Hearts board game making an appearance. In this case, it's a rethemed Talisman.
In Talisman: Kingdom Hearts, players can play as Sora, Kairi, Riku, King Mickey, or Goofy. The goal is to be the first to collect enough strength and magic to seal the Door to Darkness.
The game is comprised of 102 adventure cards plus dice and tokens, which are used to navigate different regions, overcome dangerous encounters, and fend off enemies.
For Disney fans who love the Kingdom Hearts franchise, this is a great board game worth having in your collection.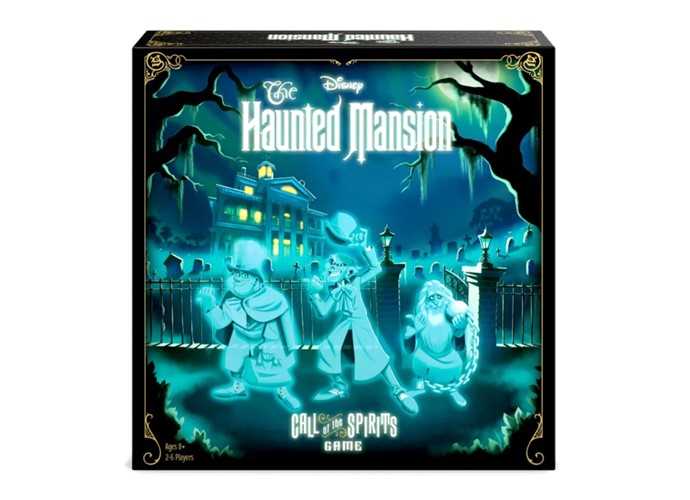 Players supported: 2 to 6 players
Average playing time: 30 minutes
The key for any awesome Disney board game is seamlessly translating the narrative and/or world of a given Disney IP into a fun tabletop experience.
The same formula applies to board games based on Disney Park attractions, except in this case the focus is on capturing the tone of those attractions. The Haunted Mansion – Call of the Spirits does that well.
Players are guests in a ghost-infested manor that's brimming with macabre mystery in every room and around every corner.
As you move around the mansion through the Endless Hallway, you'll be speaking with spirits and collecting Ghost Cards. Along the way, you'll want to avoid Haunt Cards, which make you lose points.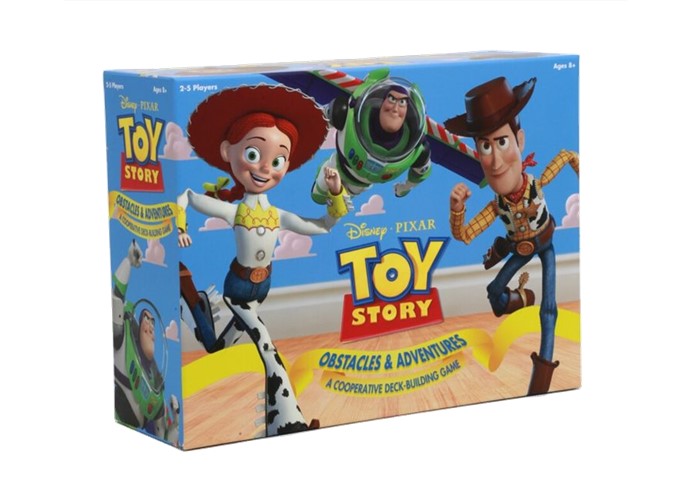 Players supported: 2 to 5 players
Average playing time: 45 to 90 minutes
Toy Story is one of the most beloved animated franchises of all time. Any young or longtime fan can relive the exciting storylines through video games, spin-offs, and their inclusion in Disney Infinity.
You can also relive the epic adventures in Toy Story: Obstacles & Adventures, a cooperative deckbuilding board game for two to five players.
You'll take on the roles of Woody, Buzz Lightyear, Bo Peep, and Rex to work as a team, trying to cross the board safely and overcome hazards to earn your happy ending as toys.
Along the way, you'll unlock different boxes that each represent different movies, adding new cards into the mix that you can incorporate. You'll meet old friends, new enemies, and memorable movie moments.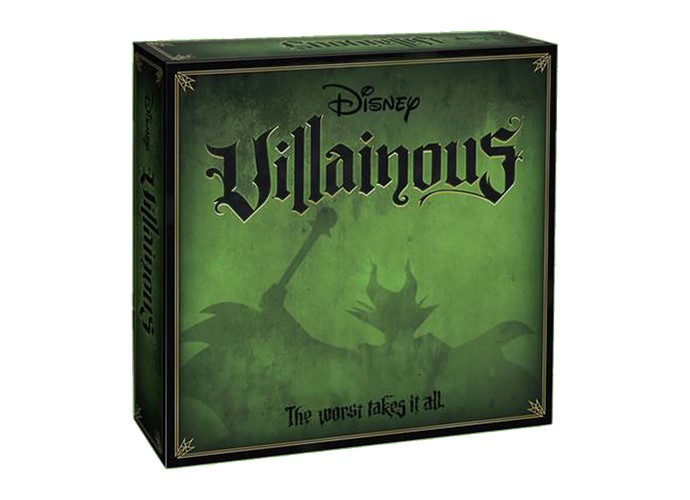 Players supported: 2 to 6 players
Average playing time: 45 to 120 minutes
In Disney Villainous, you can forget about the classic heroes—you'll be playing one of the classic villains, and you'll be in a battle against other classic villains to see who's the greatest villain.
Every villain in Disney Villainous has their own unique deck that plays out with unique goals and mechanics, but they're all bound by a shared Fate mechanic that throws wrenches into your schemes.
In this strategy card game, you'll need to discover the strengths of your villain and make the best of them to accomplish your goals while thwarting the other villains from succeeding in theirs.
With numerous expansions that add more villains to play as, Disney Villainous exemplifies why Disney villains are admired.