Horror fans tend to be some of the most rabid out there. They constantly lust for new content in the same way a zombie craves human flesh.
That's why a service like Shudder is able to exist. It caters exclusively to fans of the horror genre (with a light sprinkle of sci-fi) with original content and beloved classics.
But is Shudder worth the price of a subscription? Let's dig in to all the pros, cons, and features of Shudder to find out.
What Is Shudder?

Shudder is a relatively new streaming service (beta started in 2015 and it officially launched in October 2016) with content specifically tailored to fans of horror.
Shudder streaming is owned and operated by AMC Networks.
As is the case with most streaming platforms, Shudder is available on just about every device under the sun: iPhone, Android, Amazon Fire, Android TV, Apple TV, Roku, Xbox One, Chromecast, and more.
Shudder is also accessible in just about any web browser, so if you're worried about having a device on which to binge hours and hours of horror content, you have nothing to worry about.
Shudder is cheaper than most streaming services, starting at just $4.75/mo. It comes with a no-risk 7-day free trial, so you can test out the content and see if it seems like something that's worth your money.
Shudder's Quantity of Content

An important factor to consider when signing up for a streaming platform (especially with how many are out there to choose from nowadays) is how much stuff you'll be able to watch.
After all, if you're going to plunk down money every month, you're going to want to have a lot of stuff to choose from.
In terms of quantity, Shudder offers a good amount, but it's obviously not at the level of something broader like Netflix or Hulu.
There are tons of movies on Shudder to choose from. As of this writing, I counted a total of 326 movies available, which is quite a bit of horror to take in.
In fact, if each movie averages 90 minutes in length, that's approximately 489 hours of content just in the movies section.
Shudder also offers a few TV shows and anthologies that'll add a bit more to the value of your subscription.
Between series and podcasts, there are more than 30 options to choose from. Some shows are nonfiction as well, so if you're looking for something in that realm, Shudder has you covered.
As for original content, Shudder is still building its library there, but it does quite a few exclusives and originals that you can only get through Shudder.
Unfortunately, for shows and anthologies, it doesn't release the episodes in a bingeable format, instead opting for a more traditional schedule of releasing new episodes weekly (presumably to keep you subscribed longer).
Shudder's Quality of Content

As is the case with the horror genre as a whole, the quality of content is hit-and-miss on Shudder.
Of the movies mentioned above, quite a few of them are what you'd consider "B" movies that feature fairly low budgets. That's not to say you can't get some entertainment out of movies like this; just don't expect hundreds of Hollywood blockbusters.
With that said, there are plenty of classic and staples of the horror genre available on Shudder.
Some examples include Halloween, Halloween 4, and Halloween 5, with Halloween 2 notably missing. More examples include Hellraiser 1, Hellraiser 2, Night of the Living Dead, and The Texas Chainsaw Massacre.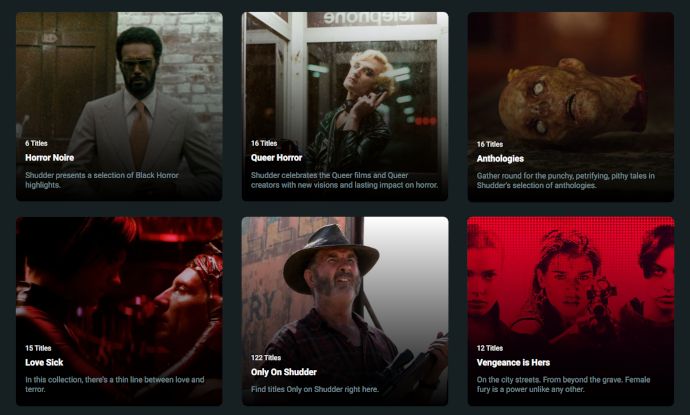 There are lots of important horror franchises that aren't represented on Shudder, presumably due to licensing issues.
For example, you won't find any Friday the 13th, A Nightmare on Elm Street, or Child's Play movies. Not having these really hurts the service, as it's not a one-stop-shop for all of your horror needs without them.
The originals and exclusives are hit and miss (granted, I haven't seen all of them). Most of them feel pretty low-budget, although NOS4A2 has the look and production value of something you'd expect to find on traditional TV.
Should You Sign Up to Shudder?
Shudder does have a lot of exclusive and original shows and movies that you won't find on any other service.
And while they're not all great, gems like NOS4A2 and Creepshow make the price of admission worth it.
When you add in the options to explore all of the other exclusive films and the relatively low price of admission, Shudder is definitely worth it for hardcore horror fans.