Action movies are typically packed with brutal fights, fast-paced car chases, and blazing gunfights. But few action sequences are more visually thrilling than what we see in martial arts movies featuring kung fu, aikido, karate, and more set to an epic soundtrack.
Martial arts movies are rarely about how big and strong characters are, but rather how much control they have over themselves and how much mastery they can exhibit over their abilities.
Fight choreographers, trainers, actors, and stuntmen work in tandem to craft action-packed martial arts movies, which can even incorporate guns, cars, and parkour for elevated thrills and adrenaline rushes.
Which martial arts movies have the most exciting and impressive action sequences? Here are our picks for the best action-packed martial arts movies of all time.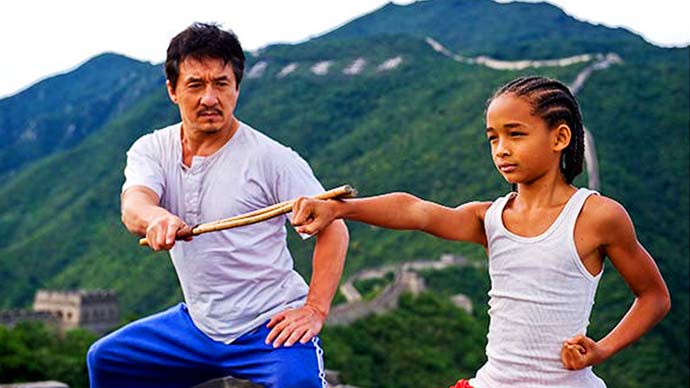 The story of The Karate Kid centers on a 12-year-old boy, Dre Parker (played by Jaden Smith), who moves to China with his mother. There, he falls for a girl and gets into trouble with neighborhood bullies.
With Mr. Han (played by Jackie Chan) teaching him, he learns that kung fu isn't about punches and kicks but maturity and calmness. Under Mr. Han's guidance, he joins a kung fu tournament where he might even end up against the boy who bullies him.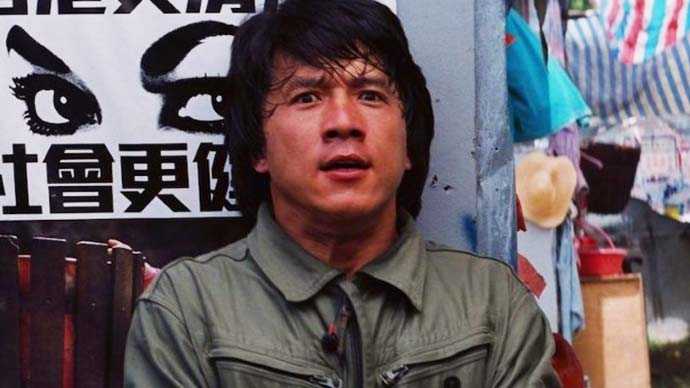 Police Story is a blockbuster film written and directed by Jackie Chan, who also takes the lead role as a good cop who's framed for a crime. It won awards for Best Picture and Best Action Choreography at the 1986 Hong Kong Film Festival.
The story centers on Chan's role of Kevin, a cop who almost single-handedly caught a crime lord, Chu Tao. Unfortunately, Chu Tao is later released due to lack of evidence, and then turns around to frame Kevin for the murder of a fellow cop.
The scene where he's running from his fellow policemen while chasing Chu to clear his name brings in all the action-packed goodness you'd expect from a Jackie Chan martial arts movie, including boggling stunts and comedic moments.
One incredible scene features Chan dragged behind a double-decker bus, as well as his trademark hilarious outtakes during the end credits.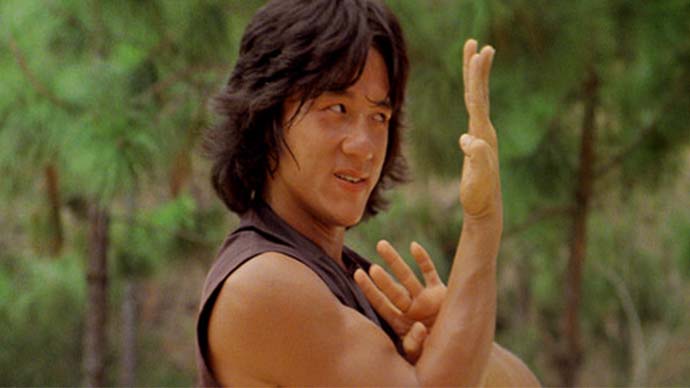 The 1978 Drunken Master is a kung fu movie classic and one of many movies to feature the iconic character of Wong Fei Hung (played by Jackie Chan). Here, he's a town misfit who always ends up in trouble.
Due to being a disappointment, his father sends him to train with Beggar So, the legendary kung fu master. Only after being defeated and humiliated in a fight does Wong Fei Hung decide to take Beggar So's rigorous training seriously.
The film features lots of action-packed martial art moves, including the badass Drunken Fist Stance, which looks clumsy yet funny.
One of the best parts of the film is his fight with Thunderfoot (Thunderleg), where he manages to create his own Drunken Fist style by combining all he's learned. The performance and choreography are so entertaining, even without knowing the context of the fight itself.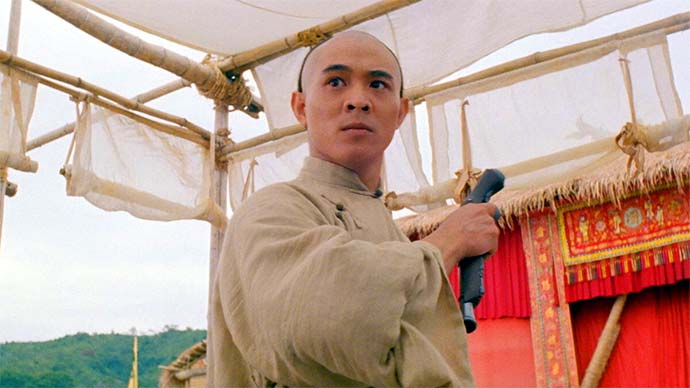 Free Trial Offer
Did you know you can try Amazon Prime for FREE for 30 days? Get instant access to movies, TV shows, games, ebooks, and more—no commitments.
Once Upon a Time in China is another film featuring the iconic martial artist Wong Fei Hung, this time played by Jet Li.
The story revolves around Wong in the late 19th century during the Qing Dynasty and the struggles of not only him but nearly all people living under the government's rule.
The film's fight scenes consist of hand-to-hand and weaponized combat where they use staves, traditional swords, and spears. The film also features modernized combat when one of the characters states that martial arts are no match for a gun.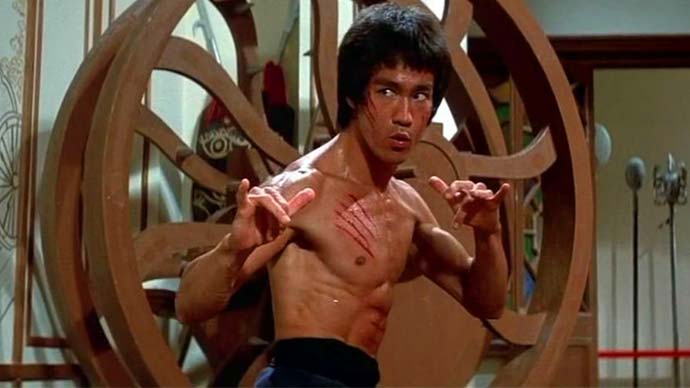 Enter the Dragon is perhaps the most successful martial arts action movie and one of the greatest martial arts films of all time. It was also the last movie to star the famous martial artist/actor Bruce Lee.
The movie revolves around Lee, who takes an undercover mission to spy and gather evidence on a suspected crime lord. To do this, he joins a martial arts tournament hosted on the crime lord's island. From there, you'll witness all kinds of badass martial arts fights.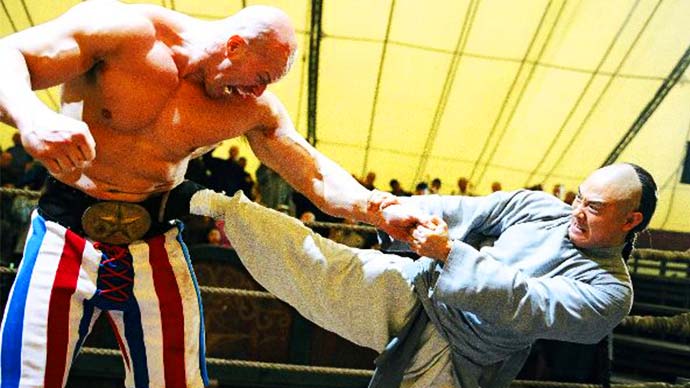 Fearless is a 2006 martial arts movie with Jet Li playing the lead role of Huo Yuanjia. The story is mostly told as a flashback as the main character is waiting for his fourth match in a tournament.
The film is filled with fight scenes, including his fights with Qin at the restaurant and against the American wrestler Hercules O'Brien where he saves the wrestler from certain death. The movie also features several martial arts and combat styles, including fencing and kenjutsu.
The fights became the solution to Yuanjia's problem to bring honor back to his family, and a way to show his compassion, honor, nobility, and civility, which were the highlights in every fight scene.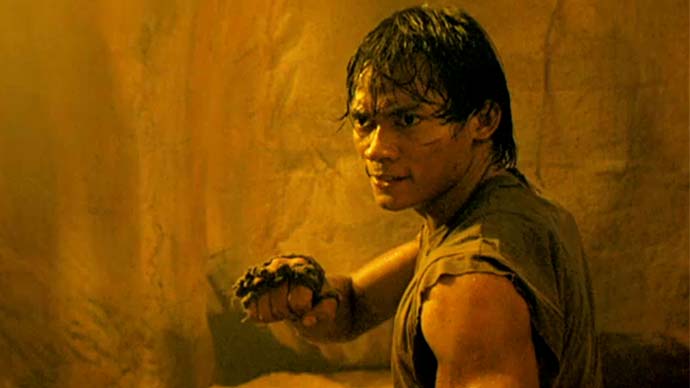 Ong-Bak: The Thai Warrior features the traditional form of Muay Thai, known for its violent strikes using body parts like elbows, knees, and feet. It also brought Thai martial artist/actor Tony Jaa into the spotlight.
The story revolves around the stolen head of a treasured Buddha statue from the village of Ban Nong Pradu. This causes an uproar as it's believed to bring prosperity to the village.
Ting (played by Tony Jaa) is asked to chase down the culprit and bring the precious Buddha head back to the village, which sets the film up for its series of action-packed fight scenes.
The badass fights were choreographed by Jaa's mentor, Panna Rittikrai, a well-known director of B-movies. Ong-Bak was released internationally but with some alterations and cut scenes that removed some subplots and changed some of the soundtrack.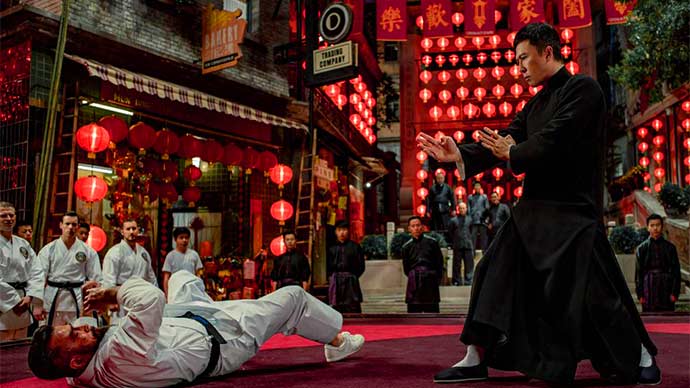 Ip Man 4 is a martial arts film directed by Wilson Yip and produced by Raymond Wong. It's based on the life of Wing Chun grandmaster, featuring Donnie Yen in the title role.
Ip Man, a martial arts master, discovers that he has throat cancer due to chronic smoking. He travels to San Francisco to find a new school for his son, where he finds out that Chinese immigrants are extremely discriminated against.
But Ip, together with trusted student Bruce Lee, uses teaching of martial arts to Westerners as an opportunity to bridge the gap between cultures, which helps them to solve their problems.
One of the best fight scenes is the exhibition tournament during the Mid-Autumn Festival in Chinatown, where the Marines combat instructor defeats several kung fu grandmasters to prove they don't need kung fu in their training routine. Then, Master Ip enters the scene to save the day.