At the 1977 Academy Awards ceremony, a small independent film shocked the movie industry by winning Best Picture.
Rocky had been a massive success at the box office and received 10 Oscar nominations, including Best Director, Best Picture, Best Actor, Best Actress, and two for Best Supporting Actor.
It won three of those Oscars that night, and the film's star Sylvester Stallone was propelled from obscurity to stardom.
Also in 1977, a documentary film followed the journey of professional bodybuilders who aimed to become Mr. Olympia. Pumping Iron showed off a young Arnold Schwarzenegger, who was at the height of his bodybuilding career.
Schwarzenegger had already started working in movies, but it wasn't until 1982 that he got his first big role (as Conan the Barbarian).
From then on, Schwarzenegger and Stallone would spend the rest of the 80s and early 90s battling it out at the box office to see who was the bigger action movie hero.
Back then, action movies were all about rippling muscles, heavy machine guns, and explicit macho masculinity—and audiences ate it all up. But who was the better action movie hero?
Schwarzenegger vs. Stallone: Best Movies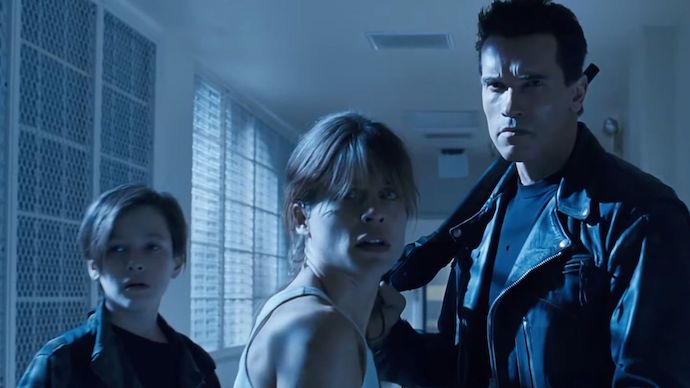 Sylvester Stallone's career has had many ups and downs, but at his best, Stallone has shown that he is a genuinely fine actor.
Looking at his greatest roles, Stallone's crowning achievement will always be Rocky Balboa. The eternal underdog, Rocky's story has been told on the big screen over the course of 40+ years, with Stallone playing him as a young man through to old age.
It's rare for a Hollywood role to have the kind of legacy that Rocky has, and upon Stallone's Golden Globe win for playing Rocky Balboa in Creed, he was given a standing ovation by the A-list crowd.
Outside of Rocky, Stallone's other great role was as John Rambo in the Rambo franchise. The grizzled ex-Green Beret's story lasted almost as long as Rocky's had, albeit over fewer movies.
The first film was a genuinely affecting story about soldiers returning home from Vietnam and the PTSD that many of them suffered. After that, they progressively fell into out-and-out action—and the final film, Rambo: Last Blood, opened to vastly negative reviews.
In between his outings as Rambo and Rocky, Stallone has proven his acting ability in other films, such as 1997's Cop Land and 2017's Guardians of the Galaxy: Volume 2.
Arnold Schwarzenegger's film career also saw him become famous for two particular roles. First, as Conan, he gained widespread recognition in 1982 and 1984. Yet while he's fondly adored as Conan by some, he'll always be remembered as The Terminator.
The success of The Terminator saw Schwarzenegger become a movie star overnight for playing the relentless killing machine. He peaked further when he returned in 1991 for Terminator 2: Judgment Day.
The film was critically acclaimed and was the highest-grossing R-rated movie of all time when it released. This time, Schwarzenegger's character was tasked with protecting (not killing) John Connor, leading to an epic action movie with game-changing visual effects.
Even though the franchise ran into the ground with later films, Terminator 2 remains one of the very few perfect action movies.
Besides that, Schwarzenegger had massive success with other action movies, including True Lies, The Running Man, Total Recall, and Predator, plus some fun comedic roles like in The Kindergarten Cop, Last Action Hero, and Jingle All the Way.
He also surprised people with his dramatic performance in the 2015 zombie movie Maggie, where he played the father of a young woman who slowly became a zombie. Maggie was warmly reviewed by critics who praised Schwarzenegger's heartfelt performance.
Schwarzenegger vs. Stallone: Worst Movies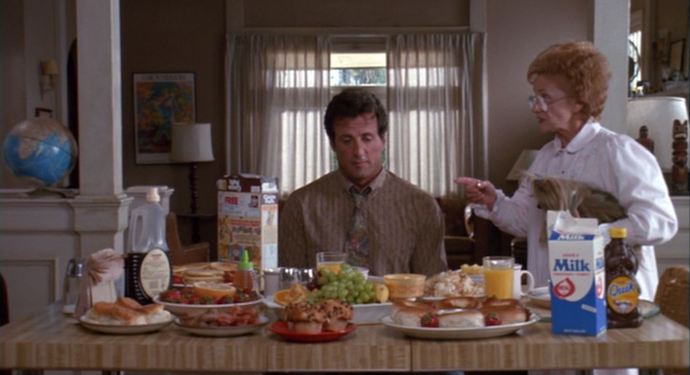 For all the highs that the pair have soared, there have been some startling lows too—especially in the late 90s and early 2000s when the action genre moved off in different directions.
Stallone's Stop! Or My Mom Will Shoot, Rocky V, Escape Plan 2 & 3, and Backtrace are the tip of an iceberg for career duds.
When Schwarzenegger became the Governor of California and put his film career of hiatus, he was still starring in the occasional movie—but it was clear that the industry was moving on.
His roles in films such as Junior, End of Days, Batman & Robin, Terminator Genisys, and Viy 2: Journey to China are awful to this day, and are the tip of Schwarzenegger's own iceberg of duds.
Schwarzenegger vs. Stallone: Iconic Moments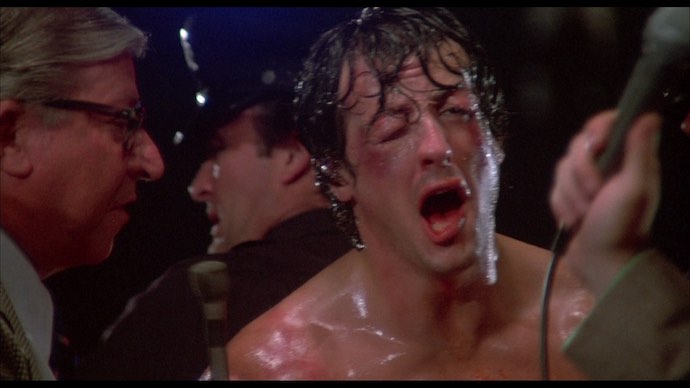 There have been many iconic and euphoric moments in the careers of Arnold Schwarzenegger and Sylvester Stallone. From Stallone's speech at the end of Rambo: First Blood to Schwarzenegger's "Hasta la vista, baby" in Terminator 2: Judgment Day.
For Stallone, it's his shouts of "Adrian" at the climax of Rocky that will always be best remembered. While the speech at the end of Rambo is poignant, and his motivational "how winning is done" monologue in Rocky 6 is gripping, it's the swell of Gonna Fly Now mixed with Rocky's cries of "Adrian" that makes Stallone's finest moments.
For Schwarzenegger, outside of his numerous iconic phrases, it's the thumbs-up scene in Terminator 2 that stays with us even to this day. It didn't leave a dry eye in the cinema when it released in 1991.
As the teenage John Connor cries and orders the T-800 not to go, The Terminator says his heartfelt goodbye and lowers himself into the molten pit—giving a final thumbs-up as he dies.
For all the times Arnie said "I'll be back," it's the goodbye to a devastated John Connor that serves as his most memorable moment.
Schwarzenegger vs. Stallone: Verdict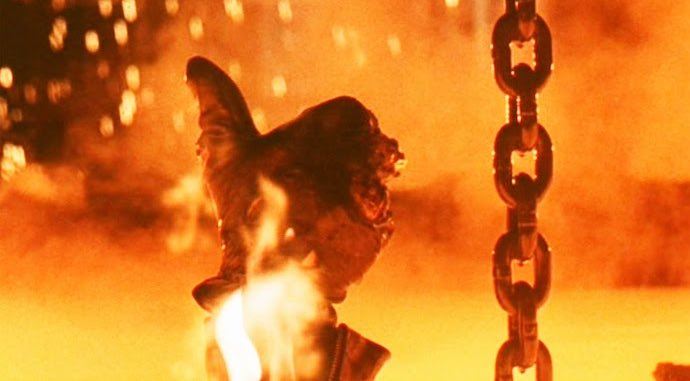 Looking at these two Hollywood icons, they fall into two categories.
Sylvester Stallone is the superior actor compared to Arnold Schwarzenegger, and his performances in Rocky, Rambo: First Blood, Creed, and Cop Land prove that. However, his filmography is littered with idiotic action movies that never landed.
Arnold Schwarzenegger's filmography is bolstered by fantastic action roles across several franchises. Films like Predator, Commando, The Running Man, Red Heat, and True Lies are fun movies where each one allows him to showcase his typecast identity.
So while Stallone is the better actor, Schwarzenegger is hands-down the better action movie hero.