These days, it's easy to forget that cinema is an art form, what with all the superheroes and CGI goblins that keep busting blocks.
But at their core, movies are the alchemy of boundless imagination and bitter reality, able to transport us to vast fantasy realms and tap into our deepest feelings, dreams, and sentiments.
Here are some of the greatest movies that celebrate the medium of cinema itself and successfully capture the magic of filmmaking.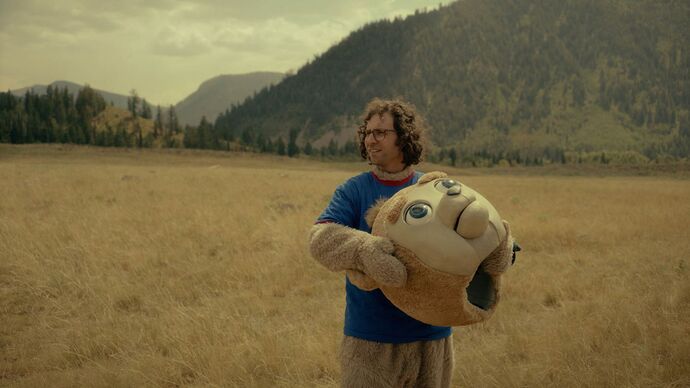 The poster for Brigsby Bear might be familiar to cinephiles. It's a parody of the 1902 short film A Trip to the Moon by Georges Méliès.
Méliès was known for his pure love of cinema, just as James (Kyle Mooney) is in Dave McCary's directorial debut. And by "cinema," we mean a kids TV show—one that turns out to be fake, anyway.
After finding out that his "parents" are actually his captors, James decides to give his favorite show the grand finale it deserves—with his very own beloved movie.
Kyle Mooney also co-wrote the script with Kevin Costello, and the three of them (alongside Dave McCary) were inspired by their own childhoods spent making short films.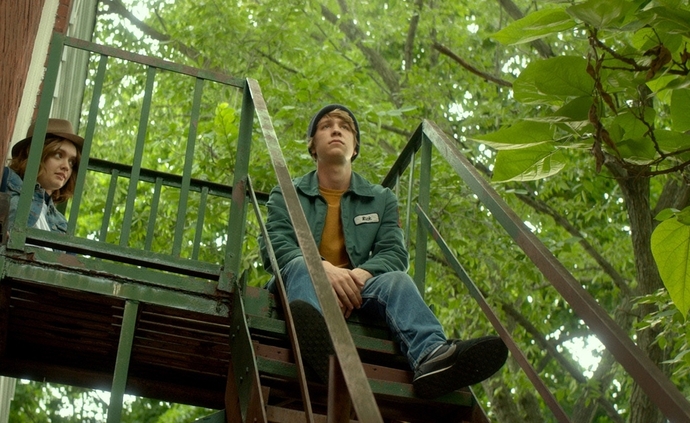 Greg (Thomas Mann) and Earl (RJ Cycler) spend their teenage years making short films, parodying the likes of Citizen Kane (1941), A Clockwork Orange (1972), and Apocalypse Now (1979).
They describe themselves as "co-workers" rather than friends, and director Alfonso Gomez-Rejon has a little fun by making Greg break the fourth wall with us.
After finding out their school mate has leukemia, Greg and Earl decide to make their own original movie in her honor—and in her final moments, Rachel (Olivia Cooke) is moved to tears.
Me and Earl and the Dying Girl shows us the profound power of cinema, able to define and distill those moments before her death. A fairly deep conclusion to a coming-of-age comedy-drama!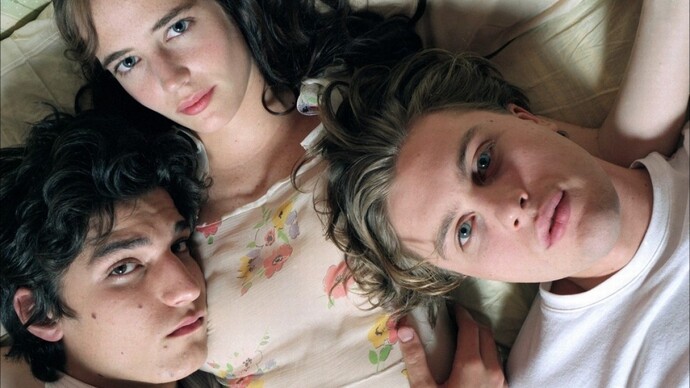 Although The Dreamers doesn't feature any wannabe filmmakers or life-changing theater trips, it does center on a trio of film buffs. In fact, it's exactly their love of film that ropes Matthew, Théo, and Isabelle into an incestuous love triangle.
Michael Pitt, Eva Green, and Louis Garrel star as the privileged, two-part French and one-part American threesome, who all sleep, drink, and nerd out to films together (i.e. philosophical conversations about cinema).
Bernardo Bertolucci directed The Dreamers, adapted by Gilbert Adair from his 1988 novel The Holy Innocents. Both the book and film experiment with sexuality against the backdrop of political upheaval in Paris, 1968.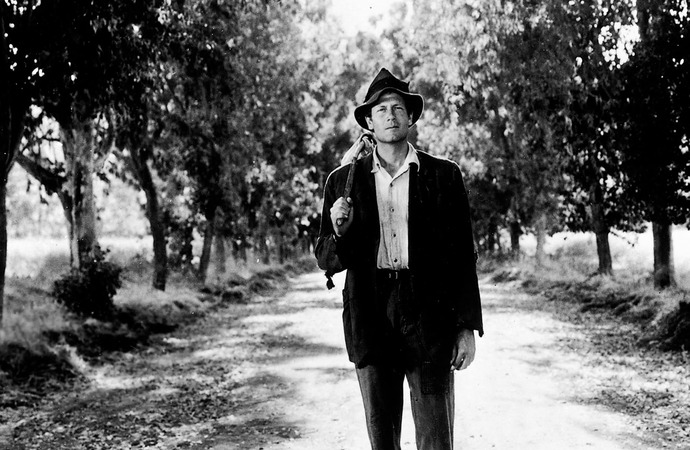 Sullivan's Travels makes reference to Jonathan Swift's 1726 novel in parallel to its own satire of human nature via a journey of self-discovery.
John L. Sullivan (Joel McCrea) is a successful director of empty Hollywood comedies who finds himself disillusioned despite all his money. Red carpets don't equal fulfillment, and Sullivan ends up chasing the pull of his soul towards a more meaningful movie masterpiece.
In order to really "get into" his characters, Sullivan poses as a hobo—and ends up getting more than he bargains for.
In one famous scene, Sullivan watches a screening of the 1934 Disney cartoon Playful Pluto. Despite grueling years spent in a hard labor camp, all the prisoners are surprised to find laughter still lives within them, thanks to the little guy on the big screen.
Before Woody Allen fell off the popularity wagon due to allegations of assault, he made several famous movies that have now sort of dwindled into the background.
One such film was The Purple Rose of Cairo, blending fantasy with realism in ode to Buster Keaton's Sherlock Jr. (1924) as well as the broadway musical Hellzapoppin' (1938–1941).
Set in 1935, the rom-com follows a fictional archaeologist who takes breaking-the-fourth-wall to a whole new level: Tom (Jeff Daniels) physically walks out of the cinema screen and falls for audience member Cecilia (Mia Farrow).
Woody Allen reminds us to have a little fun with cinema by toying with the gap between fact and fiction that cinema negates. But he also prompts us not to get too lost in escaping our real lives!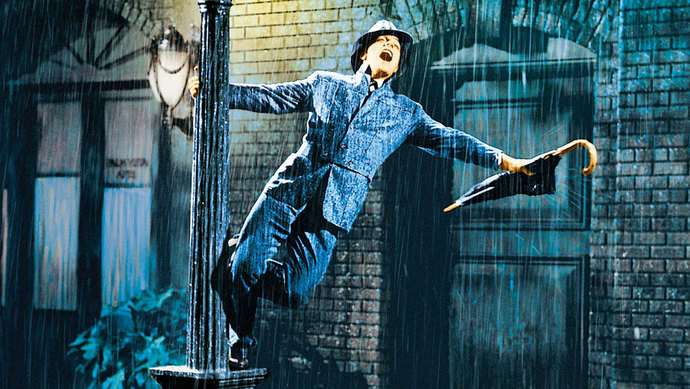 Singin' in the Rain is a musical film about a different musical called The Dancing Cavalier. Set during Hollywood's Golden Age, the producers of Monumental Pictures (a stand-in for MGM) realize their silent movie will flop in the face of the first ever "talkie" The Jazz Singer (1927).
Their solution? Revamp their movie with sound. But that proves a difficult task, as they lack modern technology and good singers in the cast.
Singin' in the Rain is an uplifting family movie that dances you into a victorious ending. Director and choreographer Gene Kelly avoids the cheesy in favor of some much-needed feelgood fun.
Although it doesn't cover up any of the stamina or struggle it takes to produce a movie, Singin' in the Rain shows how it's all worth it, raising us to our feet—both on and off screen.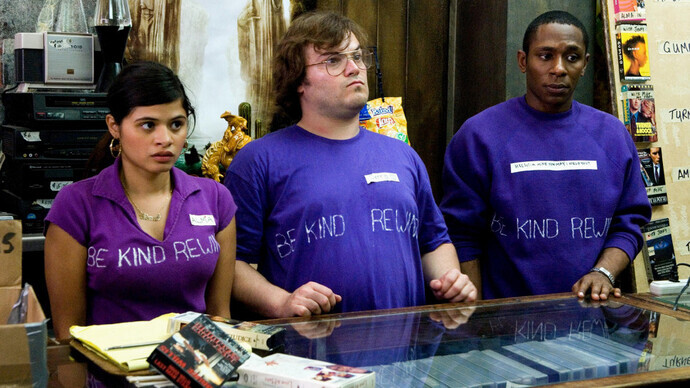 During the era of VHS tapes, "be kind and rewind" was a common saying that encouraged viewers to rewind their rented tapes before returning them to the movie rental store.
Michel Gondry's buddy comedy Be Kind Rewind takes place in 2003 at the tail-end of the VHS heyday where one New Jersey movie rental store called Be Kind Rewind is failing.
When the owner goes on holiday, the Blockbuster-looking location only has one employee to look after it, and that person inadvertently wipes the footage of every single tape in the store.
Mike (Mos Def) and paranoid customer Jerry (Jack Black) decide that the only solution is to remake every film themselves from scratch. They're all surprising hits, suggesting it's not the budget of a movie but the love that goes into it that makes it great.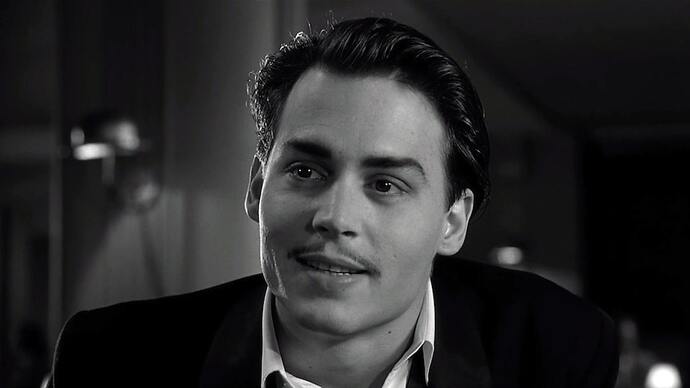 Even bad films can niggle their way into the limelight if they're made with enough love for the director's passion to shine through the reel and into our hearts, blinding any clunky dialogue or blurry images.
During the 1950s, filmmaker Ed Wood hustled a name for himself through campy low-budget films that continually failed at the box office. Nonetheless, Wood persevered to pursue his vision and find funding.
Tim Burton directs this black-and-white biopic of Wood's cross-dressing, pulp-writing life in the film industry. And who better to play an eccentric than Burton's bestie Johnny Depp?
Scott Alexander and Larry Karaszewski wrote Ed Wood while attending the USC School of Cinematic Arts. A love for film is found at every layer here—and despite the poor quality of his films, the intensity of Wood's artistic drive made his films feel magical.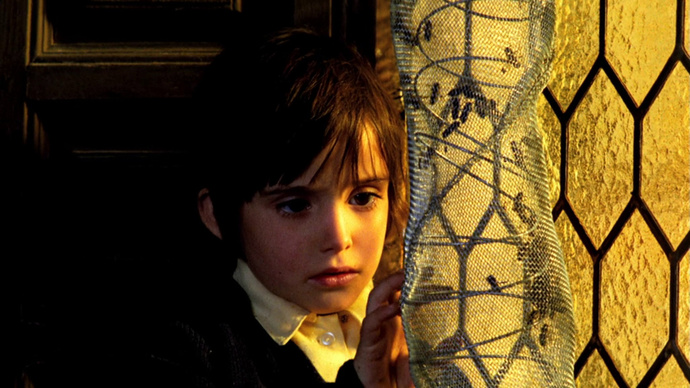 Remember the little girl and the imaginary underworld in Pan's Labyrinth (2006)? Director Guillermo del Toro was actually inspired by another landmark Spanish movie, made by Víctor Erice.
The Spirit of the Beehive was hailed for its symbolism, which Erice used to avoid censorship while conveying Spanish life under the Franco regime (1939–1975). Set at the end of the Spanish Civil War, it follows six-year-old Ana (Ana Torrent) and her fascination with Frankenstein.
A mobile cinema (on wheels) brings the weird world of monsters to Ana's lonely life in the wake of a Francoist victory. Ana naively believes that the spirits of characters exist beyond the screen and are able to be found if she only looks hard enough.
The Spirit of the Beehive metamorphosizes into a replica of Mary Shelley's 1818 novel, with Ana mistaking a wounded soldier for the monster and causing a village-wide search party.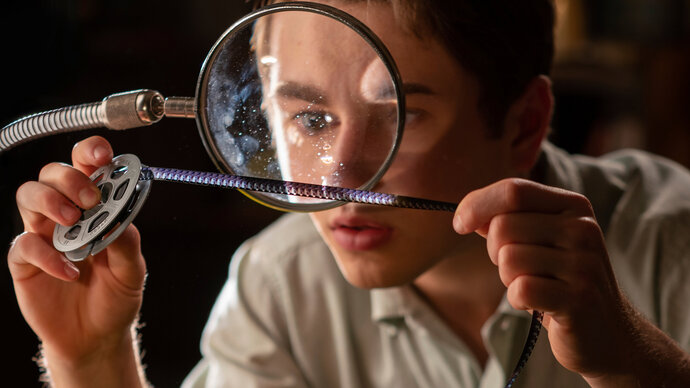 Steven Spielberg is renowned for his kind-hearted films that concentrate on the human capacity for love, adventure, and spirit. His affinity for film stems from his childhood, with his first home movie at 12 years old.
The Fabelmans isn't just directed by Spielberg—it's about him. The semi-autobiographical drama follows Sammy, who moves to Arizona, earns his Boy Scout badge in photography, endures antisemitic bullying, and endeavors to meet his filmmaking icon John Ford.
All of this is ignited by the 1952 film The Greatest Show on Earth, such is the power of a single cinema trip.
The Fabelmans is still in select theaters as of this writing, and it'd behoove you to catch it in theaters while you still can!
2. Hugo (2011)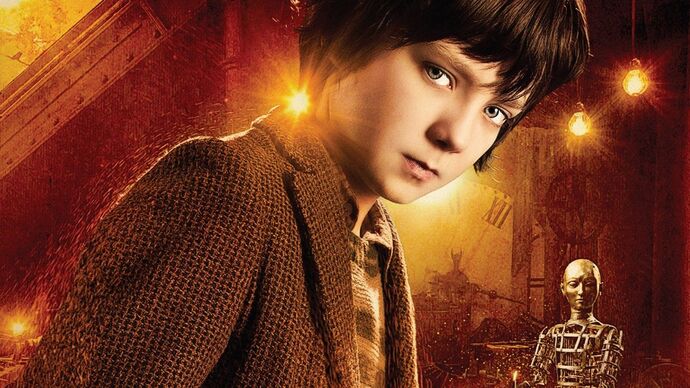 Is there anywhere on Earth that's more sentimental, more enchanting, than Paris, France? It was the birthplace of magician Georges Méliès, who turned his stagecraft into a vehicle for pioneering the moving picture.
After all, what is film other than an illusion with a story? He hand-painted each frame and shot in a glass house to perfect his spellbinding films—and, 30 years later, all of that speaks personally to young Hugo.
Although Méliès was a real filmmaker—played here by Ben Kingsley—12-year-old orphan Hugo is fictional. Martin Scorsese based the adventure flick on Brian Selznick's 2007 book The Invention of Hugo Cabret.
Poor and alone in 1931, Hugo (Asa Butterfield) lives inside the walls of a railway station, trying to connect the dots of his late father's automaton with the lost work of Méliès.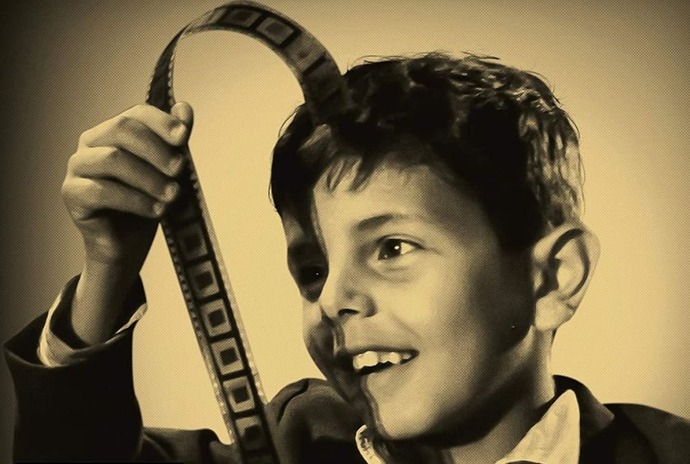 Giuseppe Tornatore wrote and directed the great Italian drama Cinema Paradiso, literally translated as "New Paradise Cinema."
For little Salvatore (Salvatore Cascio), cinema is a paradise as he lives in the wreckage of World War II. He's mischievous but clever, and he ends up befriending projectionist Alfredo (Philippe Noiret), who teaches him the intricacies of film negatives while standing in as a father figure.
After serving in the military, Salvatore finds himself to be a big fish in a small pond—and Alfredo urges him to leave so he can pursue his filmmaking dreams, which he does.
Successful as he is, making art requires the emotion and connection of a meaningful personal life, which Salvatore only learns too late.