Board gaming as a hobby has absolutely exploded in the last decade, with thousands of new board games released every year and many of them putting all kinds of new spins on gameplay.
It's been a bit of a double-edged sword, though. As companies continue to churn out game after game after game, it's increasingly harder to keep up with all of them.
More importantly, it's harder to know which board games are worth your time.
That's where board game reviews and board game recommendations come into play—and myriad resources have popped up in recent years, each one catering to different tastes in board games.
Want to know what's good, what's coming, and which games you should check out? Here are our picks for the best board game review sites and YouTube channels.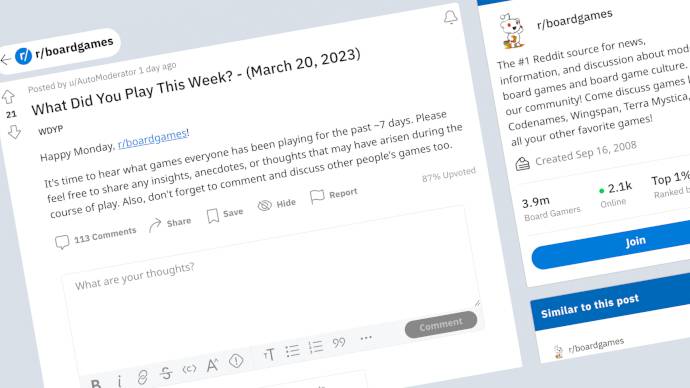 The r/boardgames community on Reddit is worth bookmarking if you want a central place that aggregates all things relating to the hobby: news, stories, experiences, reviews, and recommendations.
In the Daily Game Recommendations thread, you can ask for board game recommendations. Just make sure you describe what exactly you're looking for, along with examples of board games that you like and dislike—anything to help posters make better recommendations.
More generally, you can check in once or twice a day to catch up on all the active discussions. I've found these discussions to be wonderful resources for finding new games I might enjoy.
Community members will post their own reviews of what they've played, and it's especially prevalent near the end of every year as people recap everything they've played and their thoughts.
Before You Play is hosted by Monique Macasaet and Naveen Sharma, a board gaming couple who combine playthroughs and reviews into one big video for each game.
If you like seeing how board games actually play out in practice, this is the channel to check out. The only downside is that they're only two, so playthroughs of larger games are hard to come by.
In recent months, Before You Play has leaned heavily into Kickstarter previews and promotions. It's a good way to learn about what's popping on Kickstarter, but don't treat them as reviews.
Actualol is hosted by Jon Purkis, a board game hobbyist who likes making "board game videos with a sense of humor."
But you won't really find board game reviews on this channel. Instead, you'll find higher-level videos about the board gaming hobby with the occasional "best games" lists.
While Actualol has great video production quality, they're few and far between—like 10 videos or less per year—so it's hard to rank them much higher on this list. It's a solid source for board game recommendations, but far from the best.
Shut Up & Sit Down is hosted by a trio of British board gamers: Quinns Smith, Matt Lees, and Tom Brewster.
Some might crucify me for placing SU&SD this low on this list, but they really don't deserve to be higher for two main reasons: first, their video releases are few and far between, and second, their videos are designed more for entertainment than information.
If you're the kind of board gamer who only cares about the hottest and trendiest games, this channel will keep you up to speed on them.
One Stop Co-Op Shop is hosted by Mike Kelley, Colin Degnan, Peter Gousis, Steve Kingsley, and Jason Perez. Aptly named, this channel focuses on all things solo and cooperative in board games.
What's great about One Stop Co-Op Shop is their commitment to truly discovering a game—multiple playthroughs—before posting a review. (Not true of their other videos, like promo plays and first impressions.)
Moreover, their board game reviews are incredibly succinct, clocking in between 5 and 10 minutes. They also exclude "how to play" instructions in their reviews, deviating from most board game YouTubers.
One Stop Co-Op Shop puts out videos every 1 to 3 days, so there's a lot of visibility for new games and recommendations.
Beyond Solitaire is hosted by Liz Davidson, a solo board gaming fanatic who does video reviews of board games from the solo perspective. That means lots of solo games and solo modes for bigger games.
Her channel has evolved over the years, but the best thing about her videos is that they're no-nonsense and no-frills. They're quick and to the point: how do you play, what's the overall experience like, and what are the pros and cons to be aware of.
Beyond Solitaire isn't the kind of channel you watch for entertainment value; rather, you watch for bite-sized insights from someone with lots of experience, a long history, and good taste in games.
The Game Boy Geek is hosted by Dan King, a board gaming fanatic who used to be a frequent Dice Tower contributor (more on that below) but left back in 2015 to start his own channel.
This is the channel to watch if you want longer-length videos with comprehensive board game reviews across all kinds of genres. His reviews tend to be around 10 to 15 minutes long, with larger games extending out to about 20 minutes or more.
These videos are dense with lots of information, never dragging and never fluffed with unnecessary skits or distractions.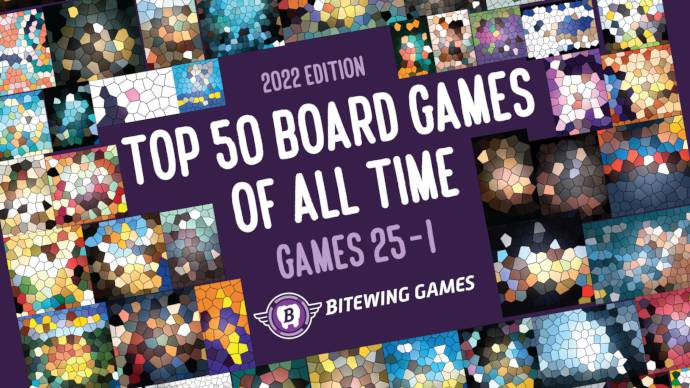 Bitewing Games is one of two board game resources on this list that aren't YouTube channels.
In fact, Bitewing Games is a board game publisher with three games so far—Soda Smugglers, Pumafiosi, and Hot Lead—with more on the way. But they also maintain a blog that's well worth reading.
The Bitewing Games blog is a great resource in two ways: first, their roundups of board game first impressions, and second, their giant lists of board game recommendations.
The first impression posts aren't exactly reviews, but they dive deeply enough to be more insightful than most board game reviews out there. If you're looking for great games to research, don't overlook this site!
Shelfside is hosted by Ashton Wu and Daniel Shi, two board game hobbyists who lean toward the heavier end of complexity in their games but also mix in midweight games for good measure.
Their proclivity for complex games comes out in their reviews, which are among the deepest, densest, and most detailed board game reviews on YouTube. Most of their reviews cross the 30-minute line, with some going as high as 60 minutes—without any fluff.
If you like intricate board games with lots of content and moving parts, you won't want to miss out on Shelfside's insights. The high-quality video production is a wonderful cherry on top.
The Dice Tower is hosted by Tom Vasel along with several regular contributors, including Zee Garcia, Mike Dilisio, Chris Yi, Wendy Yi, and more. It's one of the largest and longest-running board game YouTube channels, and it helped pioneer the space for everyone else on this list.
Sure, The Dice Tower is far from perfect. You may not like their silliness, or you may not like their constantly changing formats, or you may not like some of their personalities. But when it comes to sheer volume of content, no one comes close to The Dice Tower.
And this isn't a case where quality is sacrificed for quantity. In fact, quantity is quality in this case—The Dice Tower reviews all kinds of games that fly under the radars of other channels.
If you truly want board game reviews and recommendations that go beyond what's hot and trending, you won't find a better resource.
I'm not just listing them on top because they're the oldest. They truly are the best at what they do, and the board gaming hobby owes a debt to The Dice Tower. Who knows where we'd be without them?